3rd July 2018
How safe are our children? NSPCC report 2018
Image taken from: Bentley, H. et al (2018) How safe are our children? The most comprehensive overview of child protection in the UK 2018. London: NSPCC.
Most people are aware of the National Society for the Prevention of Cruelty to Children – the NSPCC – which is the largest charity in the UK specialising in child protection. The NSPCC has been campaigning and supporting children since 1985, a considerable length of time. Most people are not aware that interestingly the NSPCC is the only UK children's charity with statutory powers and that means it can take action to safeguard children at risk of abuse. On my Safeguarding training I always cite the NSPCC as an organisation that any professional and indeed member of the public can contact to talk through any concerns they have about a child. Many of my participants have told me how helpful the NSPCC have been to them in the past. The NSPCC is often at the forefront of new initiatives in prevention of child abuse and I frequently refer to their work in my newsletters, including their activism on mandatory reporting, their library of Serious Case Reviews, and their helplines (see below).
For the last five years the NSPCC has been compiling and analysing the most robust and up-to-date child protection data that exists across the 4 nations in the UK. The charity has been consistently looking at the same indicators each year, to track changes over time and consolidating this national data into one document. The annual report entitled 'How safe are our children'.
This year's report sets out what the available data tells us about the current child protection landscape, and takes a closer look at how safe children are online. Some of the key points in the report are:
There have been increases in police-recorded child sexual offences across the UK and increases in child cruelty and neglect offences in all UK nations except Scotland.
The last decade has also seen increased numbers of children on child protection plans and registers.
Almost a quarter of young people were contacted online by an adult they did not know.
Since the offence of communicating indecently with a child was introduced in England and Wales in April 2017, over 3,000 crimes have been recorded by the police.
Following the Government's commitment to bring in laws to protect children online in 2018, the NSPCC is calling for the legislation to:

commit social media firms to follow a consistent set of minimum safeguarding standards
make platforms report on how they keep children safe
carry consequences for platforms that don't follow safeguarding rules
make platforms take proactive steps to prevent exposure to illegal content and behaviour
I would really encourage you to read this important report – it is written in an engaging and accessible way.
To contact the NSPCC for practical help or to report abuse:
https://www.nspcc.org.uk/what-you-can-do/report-abuse/ 
---
19 June 2018
Do You Know How to Make a Perfect Referral?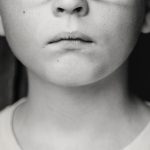 The Advanced Safeguarding course I deliver is one of the most popular and well attended sessions I run. We discuss a range of pertinent issues that I have put together from experience as being relevant to the needs of most settings. One issue that invariably comes up in most of my safeguarding training is how to put together a quality referral for children who are in need or who require protection.
When making referrals there are some clear checklists to follow:
Do:
Explain what worries you most and why
Focus on the impact on child/children
Answer all the questions as fully as possible
Provide all the information that you have access to
Provide details of everyone who lives with the child (and anyone significant that lives elsewhere)
Talk to the child – what are they worried about? What do they want to happen?
Talk to the parents – include their views
Get parental consent/notify (unless to do so would place child at further risk)
Remember to include strengths (signs of safety)
Avoid:
Making a referral before you have offered support that you have access to (directly or via direct referral to another service)
Asking the referral agency whether or not you should refer
Complex language, jargon or language/abbreviations that are only used internally
Assumptions – the referral agency don't always know the family, or have access to info to fill in gaps
Leaving gaps on the referral form
Vague comments or language – e.g. 'self-harm'
Leaving the child out
It's always useful to use the language of the local Threshold document as a guideline when you are describing what you think the child is experiencing in regard to the level of service need. Keep in mind that referral agencies have to make very quick decisions about what action is appropriate for each referral and that making the right decision relies on receiving all the relevant information you are giving. Always keep your focus on the impact of the issue on the child and family.
What to do if you feel that your referral is not receiving the right response from your local Referral agency? It's a very thorny and important question and one we discuss at length on my Advanced Safeguarding training.
Do you have newly appointed staff safeguarding staff for September? Needing Advanced Safeguarding Training for Designated Safeguarding Leads and their deputies and other key safeguarding staff and volunteers? The statutory guidance 'Keeping children safe in education' (2016) says that Designated Safeguarding Leads (DSLs) 'should undergo training to provide them with the knowledge and skills required to carry out the role. This training should be updated at least every two years.' Furthermore in recent years it was clarified in the guidance that 'Any deputies should be trained to the same standard as the designated safeguarding lead'.
The Mandy Parry Training Advanced Safeguarding course that is delivered in partnership with Delegated Services is designed to enhance the multi-agency training offered by Local Safeguarding Children Boards and covers most of the key information and skills that safeguarding leaders should have, including:
Making referrals
Updating key legislation and guidance
Local safeguarding procedures
Working in partnership with safeguarding agencies
Offering advice, training, supervision and support to your setting
The course is aimed at all levels, from newly appointed DSLs, to DSLs who are very experienced and wish to refresh their knowledge. There will be plenty of opportunities for personal reflection and group discussion, and there are several practical exercises to develop skills. It's become good practice for DSLs to attend with their Deputies if possible in order to really focus together on the implications of the training for your setting, and to ensure they really are both trained to the same level.
---
5 June 2018
10 points about Sexual Abuse EVERY Professional Should be Aware of
I am now a fully nationally accredited Safer Recruiment trainer as last year I spent a couple of days in the Midlands being training by the Lucy Faithfull Foundation, who are experts on understanding and combatting sexual abuse. The course was a real eye opener for me personally, even though I have been delivering awareness training on safeguarding for many years. I realised that there was so much we need to know as a workforce in order to maximise the protection of children from sexual abuse
Sexual Abuse may not necessarily involving a high level of violence – usually victims are systematically manipulated or groomed to participate in the abuse, and the child may not be aware that what is happening is indeed sexual abuse. Sometimes the grooming process will take many years. Perpetrators of sexual abuse are characterised by their ability to control, not to lose control as is sometimes thought.
Sexual abuse doesn't just include physical acts (penetrative and non-penetrative) – it also includes acts such as masturbation, kissing, rubbing and touching outside of clothing and non-contact activities, such as involving children in looking at, or in the production of, sexual images, watching sexual activities, encouraging children to behave in sexually inappropriate ways, or grooming a child in preparation for abuse (including via the internet).
Victims of sexual abuse rarely respond by 'Fight' or 'Flight' – more often the trauma response is likely to be 'Freeze' 'Flop' or even 'Friend' as survival mechanisms – these last responses can be misinterpreted as acquiescence.
Sexual abuse is not solely perpetrated by adult males – women can also commit acts of sexual abuse. Only 2 per cent of criminal convictions for sexual abuse are women, but this is very much considered an underestimate as female offenders are increasingly regarding as a 'small but significant minority' (Darling 2017) – some estimates as high as one in ten perpetrators.
Perpetrators of sexual abuse include children and other young people and these groups comprise a major part – some one-third – of the problem of child sexual abuse.
Studies for over more than 25 years have found that 16 per cent or more of adults state that they experienced sexual abuse as children (Cawson et al 2000; Itzin 2000, Radford 2011).
Sexual abuse is regarded is the form of abuse that is least likely to be disclosed by the victim, and the least referred by professionals. The actual number of cases could be over 15 times higher than we know about. The inquiry 'Protecting children from harm' (Children's Commissioner Nov 2015), showed that for every child known to be experiencing CSA there may be another eight who have not been identified and suggested that 400 – 450,000 children experienced sexual abuse in a 2-year period. Children's social care were involved in just under 50,000 of these cases and the police investigated around 38,000.
Sexual Abuse is the form of abuse that is least likely to secure a conviction through the courts. The 'Protecting children from harm' (2015) research estimated that the number of convictions from 2012-2014 was only 1.5% of the total number of children estimated to be experiencing sexual abuse.
Sexual abusers often seek to work with children. Research undertaken at the Wolvercote Clinic, a residential treatment centre for adult male child abusers, showed that in over 7 years and with 305 residents, 41 were deemed professional perpetrators as they had abused children in the context of a paid or voluntary role – working with children, for example, in residential work, teaching, youth work and church ministry.
Safer Recruitment training for trainers is one of the few nationally accredited safeguarding courses and national statutory guidance requires that at least one person on each recruitment panel receives this Safer Recruitment training (Keeping Children Safe in Education (2016)).
Recruiting for September 2018 and beyond?
"The school staffing regulations require governing bodies of schools to ensure that at least one person on any appointment panel has undertaken safer recruitment training." 
Keeping children safe in education' (2016), Part 3
In December 2013, following a series of meetings between the DfE and interested parties, the Safer Recruitment Consortium was created to update the face-to-face and online training materials and create a vehicle to ensure that good quality training continues to be available to schools, colleges and other education services.  The new Safer Recruitment training was launched on 1st September 2014 and has been updated regularly since.
Mandy Parry is a fully accredited Safer Recruitment trainer who uses fully accredited and updated materials Safer Recruitment training materials prepared by the Lucy Faithfull Foundation. Right now in the South West, you would be unlikely to be able to sign up to a more cost effective course. If you would like further information on the course, please do call me on 07811 101740 and I will be pleased to help.
---
22 May 2018
New Keeping Children Safe in Education
The government has published the 'for information' copy of the Keeping Children Safe in Education 2018 that will come into force on 3rd September 2018 for schools and other registered settings and childminders (until then, use Keeping Children Safe in Education (2016)).
The headlines for the new statutory guidance include:
Emphasis on supporting the needs of children with SEN and disabilities, those who were care leavers, and those children who were previously looked after, in the main those children are adopted children.
Highlights issues surrounding peer-on-peer abuse, and indeed on sexual violence and sexual harassment.
Each schools should have their own individual safeguarding policy and not just use a generic policy that isn't specifically relevant to their procedures, community and setting.
Settings should have procedures in place to protect children accessing the internet whilst at school and manage their mobile phone use.
Assessing risk in children should include their social settings outside school – an evidence based consideration called contextual safeguarding.
All settings should ensure they have at least two Emergency Contacts for Children.
Settings should be creating individual plans in order to minimise the likelihood of challenging behaviour in individual children, and ensure that there is much less use of physical restraint, force and other restrictive methods.
Multi-Academy Trusts don't need to have separate Single Central Records for each school – but each school should be able to access their own SCR onsite.
Settings will be required to complete a risk assessment for each volunteer to decide whether they need to do an enhanced DBS check or not.
School managers who must have S128 Checks in Academies, Free Schools and Independent Schools are now specified to include governors/trustees, headteachers, members of the Senior Leadership Team and departmental heads.
Schools are responsible for the safeguarding of their pupils when they're placed in an alternative provision and should obtain a written statement from the provider that they have completed all the vetting and barring checks that are necessary on their staff.
If children are staying with parents from overseas as part of an exchange they do need to have an enhanced DBS check. If there are other people in the family aged over 16, then the school can decide whether they will do an enhanced DBS check for those 16 and 17 year olds who live in the house.
Peer on Peer Abuse and sexual violence and sexual harassment is a key safeguarding concern and strategies to address this concern must appear in the safeguarding policy.
Sexual Violence and Sexual Harassment guidance has now been republished with a May 2018 date and summary of the document has now been included as Part 5, which gives it statutory status.
Induction training, must now include the setting's behaviour policy, procedures for managing children who are missing education, the staff code of conduct, and the child protection policy.
Keeping Children Safe in Education Part 1 has to be read by all members of the staff; and for everyone working directly with children, they also need to read Annex A.
---
9th May 2018
Thresholds – what every single member of the children's workforce needs to know
I start off every Safeguarding: Basic Awareness session with a practical exercise on thresholds and then a clear diagrammatic explanation of what exactly they mean in theory and then practice. I do this because it gives participants an overview of the safeguarding children services, and some idea of how they as professionals fit into this overview. The idea is that once they have the overview of Safeguarding thresholds, then the detail of safeguarding – spotting signs, working in partnership with parents, referral pathways – is a lot easier to grasp. From the feedback I've received, I think it works very well.
Thresholds describe the point that agencies will intervene to offer support and/or protection to a child or family. Clarity around thresholds is absolute critical. The draft statutory guidance, Working Together to Safeguard Children (2018), emphasises the importance of having clear thresholds for taking action to safeguard children which are understood by professionals. It is absolutely vital that all children receive the right level of support and or/protection at the right time to prevent harm and to prevent problems from escalating.
Most Serious Case Reviews – investigations which takes place when a child dies, or is seriously harmed, as a result of abuse or neglect – include an account of how professionals may have misjudged thresholds. The stakes are very high when it comes to getting thresholds wrong – intervening too late, too early, or not at all.
But thresholds are a thorny matter. Most of my safeguarding training has entailed discussion of different scenarios and how they might be interpreted as more or less serious, given the facts available and the knowledge and values of the participants who are assessing them. These threshold discussions are mirrored across the children's workforce in the real world – they take place between social workers, police, health professionals and the Crown Prosecution Service – and everybody else involved in children's safeguarding.
The challenge is this: thresholds differ between professionals. They differ between agencies. They will differ across geographical & socio-economical areas. They will even differ between members of one team!

Since 2013, statutory guidance had required all Local Safeguarding Children Boards to publish a threshold document that will define how decisions will be made when assessing children's needs. Each local authority threshold document aims to clarify the kind of services that can help children at different levels of need and risk. These threshold documents are very different. If you are a setting which works with children from a variety of different local authorities, it is the child's residence rather than the address of the setting that will guide which threshold document will apply.
This week the Bristol Safeguarding Children Board launched a much needed refresh of their local Threshold Guidance Document. If you are based in Bristol and have the earlier version please put it in the recycling. The document was approved by representatives from across the city, and like all threshold documents, it includes carefully worded matrices that work alongside this document to provide support to people to use their judgement to make decisions about when they think a child needs additional support or protection.
The guidance can be accessed here:
Other threshold documents can be found through: http://www.proceduresonline.com/swcpp/

For a clear and up to date of explanation and discussion of thresholds, I do encourage you to attend my next Safeguarding: Basic Awareness course. I hope to see you there!…
---
24th April 2018
Why early intervention is key to safeguarding
Years ago I worked as the Bristol City Council Lead Trainer for the Common Assessment Framework (CAF). I, together with a large team of co-trainers, were tasked with delivering training in CAF and a range of other brand new safeguarding initiatives to thousands of professionals across Bristol. CAFs were designed help families get the support they needed at the earliest possible stage of need, before situations escalated and there was the possibility of abuse. Although CAFs in Bristol don't exist anymore and were superseded by the Single Assessment Framework and new and improved referral pathways and service delivery, commitment to early intervention – help for families before any problems reach Child Protection thresholds – has never wavered.
Early intervention has been defined as: 'providing support as soon as a problem emerges, at any point in a child's life, from the foundation years through to the teenage years.' Working Together to Safeguard Children (2015). Statutory guidance makes very clear that it is important that children in need of early intervention receive this support in a timely fashion to prevent the escalation into abuse and to lessen the risk of harm or impairment. By providing support and information to all families, settings should be able to prevent families reaching crisis point by identifying families that are struggling at an early stage.
While statutory guidance certainly asserts the importance of early intervention, it does not stipulate how local authorities should go about delivering this service for families. There is no central funding for early intervention services, and there are no statistics that are centrally compiled as local authorities offer such different models of early intervention.
Because thresholds are lower for early intervention compared to Child Protection services, parental consent for the service is essential. Professionals are advised, however, to regard obtaining consent a continuing conversation with a parent, rather than a one off event, requiring skill, rapport and shared concern expressed for the child. When we first started offering early intervention services in Bristol, we were unsure how parents would respond and were delighted to discover that they, on the whole, greatly valued the offer of help and offered their consent readily.
In Bristol, what were previously known as the 'Early Help' teams have now been renamed 'Families in Focus'. Massive funding cuts have meant that services have had to be restructured. There will be more emphasis on professionals and agencies working together to provide early intervention for families rather than distinct Early Help teams. Smaller groups of Families in Focus professionals will eventually be based with social care teams. Bristol City Council have explained the new vision for early intervention in the City:
'…as part of our new localities working under the Strengthening Families programme we are keen to make sure Early Help is a function delivered across the system by our partners as well as us and is seen as an approach rather than a team. It is also fair to say a lot of the work we do isn't that 'Early' and the targeted intervention work is equally as important. Families In Focus was the name chosen by staff and supervisors as reflecting the good work that we currently deliver.'
Referrals to Families in Focus will still be managed by First Response by the referrer submitting an online form available on the Bristol Safeguarding Children Board website (below).
Elsewhere across the South West, there are many different approaches and referral pathways to early intervention services and these should be set out clearly in the local Threshold Document which should be published on the website of your Local Safeguarding Children Board. The Local Threshold Document should also set out examples of the kinds of needs that children and families might have that would be addressed in universal, early help or child protection services to help professionals refer appropriately. Early intervention in some areas could include devising and providing a plan for early intervention within the setting or the setting itself organising extra support with other professionals.
It is essential all professionals are committed to the principles of early intervention and are familiar with local referral pathways and thresholds wherever they are.
---
10th April 2018
A few words on the importance of effective supervision
A couple of weeks ago I delivered my course on Effective Supervision. To be honest, despite having delivered this session dozens of times in the past to project managers and social workers at Bristol City Council, it's been many years since I've actually been called to deliver it, as there hasn't been much demand.
This is a shame. Not only because it really is a brilliant, practical course that develops skills as well as understanding of the subject (if I do say so myself).
But also because offering effective supervision in your setting also means that children will be better safeguarded.
Effective Supervision for staff is named as a key factor in effective safeguarding and it is cited in many Serious Case Reviews.
In the 2001 National Inquiry into the Death of Victoria Climbie, Lord Laming wrote 'Supervision is the cornerstone of good practice.'
In her thorough national review of safeguarding services in 2010, Munro wrote 'effective supervision can improve outcomes for children, young people and their families.'
Working Together to Safeguard Children (2015) says 'Effective professional supervision can play a critical role in ensuring a clear focus on a child's welfare. Supervision should support professionals to reflect critically on the impact of their decisions on the child and their family'.
Supervision for staff also cited in the Early Years Foundation stage as an important part of safeguarding practice. Increasingly more and more agencies like schools are being asked to take on increased safeguarding responsibilities. Effective multi agency working necessitates the need for effective supervision across the children's workforce. The speed and stress of change in the sector as a whole and increased expectations from staff and employer liability for stress are other key drivers.
Quite simply, effective supervision of safeguarding staff 'ensures safe and effective practice when working with children and families and supports practitioners to make sound and effective judgements.' (Bristol Safeguarding Children Board). Staff are supported from the emotional demands of safeguarding, practice is monitored to ensure it adheres to guidance and is evidence based, and training needs are reviewed and planned. Effective supervision means that staff feel 'held' and that they are part of a team that cares about their welfare and their work.
Despite all this, I find the delivery of supervision in settings is patchy at best. In the past as a former teacher in a school I had no idea what it was in the first place – ensuring there was no fighting in the playground? So no wonder there is a lot of confusion.
---
20th March 2018
Taking a practical approach to Prevent
As I enter a school I see a really lovely colourful display entitled 'Fundamental British Values'. There are the headings – Democracy, Rule of Law, Individual Liberty and Mutual Respect and Tolerance for different faiths and beliefs – and posters and quotes from children about what these ideas mean to them in real life. Interestingly, the display also includes the values of some other countries – and I learn that Bhutan holds the value of 'Happiness' for all its citizens which is food for thought. There is a lot to learn in terms of the Prevent agenda, and this school community is obviously working hard at developing the knowledge of children, families and staff. Fantastic practice.
I hope now that most professionals working with children are fully aware that since 2015 'specified authorities' (schools, childminders, nurseries, further education, adult education, higher education providers and local authorities) are subject to a duty under section 26 of the Counter-Terrorism and Security Act 2015, to have 'due regard to the need to prevent people from being drawn into terrorism' – the Prevent Duty. However, when I recently delivered a session on Advanced Safeguarding I was a bit bemused at the lack of confidence with regard to this important safeguarding responsibility. 'I am not going to speak much about the Prevent Agenda' I announce confidently, 'as this has been about since 2015 and it's old news now.' Some participants confess to me in private during the break that they never quite got it the first time round and they aren't really sure where they stand on complying with the new duty.
So where can you start?
This week I came across a brand new resource produced by Ealing Council that took a really practical approach to the challenges posed by the Prevent Agenda. These are the action steps it advised:
Step 1 – Organise a Prevent working group:
Involve the whole setting by creating a Prevent working group. Agree who will attend and how often you will meet. Identify what the key challenges are. Promote new initiatives, oversee practice, organise staff training, monitor and reflect on progress.
Step 2 – Plan and prepare your policy and practice:
Review your safeguarding policy and practices around Prevent. Is Prevent clearly regarded as a safeguarding issue? Are responsibilities clear? Does the policy clarify how the setting will recognize the signs and symptoms of radicalization, manage disclosure, record, report and refer? Is there online safety policy? Prevent risk assessment?
Step 3 – Promote fundamental British values:
How are you going to promote these in your setting? How can you promote them in the curriculum, activities or the environment – and beyond? What resources can you use?
Step 4 – Promote online safety:
How can you ensure the children have the knowledge and skills to stay safe and build resilience online? How can you promote critical thinking? What systems do you need to put in place? What training can you offer staff? How will you respond any concerns involving online safety? How will you involve parents?
Step 5 – Communication:
Plan how you will communicate your Prevent strategy, remembering that clear and consistent messages will create awareness of your strategy and get buy in from staff, volunteers, governors or trustees, parents and children. Think about inset, open evenings, notices, assemblies, emails, meetings.
Step 6 – Review, monitor and evaluate:
Make date to check how your work is progressing and plan how you could make any improvements.
For more information check out the toolkit: https://www.egfl.org.uk/services-children/safeguarding/anti-radicalisation-prevent-duty
This approach offers just one way of going about tackling your Prevent duties. In truth there is a wealth of online resources that can help.
---
5th March 2018
What the Sad Death of Baby Aya Can Tell Us About Working with Fathers
My Safeguarding: Basic Awareness training courses now all set out a list of interesting and important Serious Case Reviews (SCRs) that I advise participants to read and to which I make copious reference to during the training. All SCRs can teach us a tremendous amount about good and poor practice. Untimately a SCR can teach us all lessons that can help prevent similar incidents from happening in the future.
A SCR entitled Aya was recently published by Bristol Safeguarding Children Board in January 2018. It involved the tragic death of a very young baby, but as it concluded that there was little or nothing that could be done to avert the death, it received little attention from the press. This is a shame in my opinion, as the report contained some interesting observations on working with fathers that could have important implications for all our work with children and families.
The SCR summary reads:
'Aya was born in June 2016. Her mother and father were not in a relationship, but decided to live together so they could both parent Aya. Aya was the only child in the family. She was a happy healthy child and developed well after some initial feeding difficulties. During the pregnancy both her mother and father both shared with midwives that they both were sometimes feeling low in mood. Her father told them he occasionally used cannabis. Appropriate additional support was signposted to and advice given, but the pregnancy was considered low risk…
…Aya's father had used cannabis, cocaine and other drugs since his older adolescence…using increasing levels of drugs following his parents' deaths…The full information was not known to professionals as Aya's father never sought professional support around these issues. After Aya's birth her father did not attend any health visiting appointment because he was at work.
On 24 December 2016 Aya was being looked after by her father while her mother was out. He called 999 in the early hours of 25 December stating that Aya was unresponsive. Paramedics and doctors attended, however Aya was tragically pronounced dead at the scene. Aya died as the result of non-accidental injuries. Her Father pled guilty to her murder and received a life sentence in July 2017.
To date, Aya's father has not been able to provide an explanation as to what triggered his violence towards Aya that night. He had regularly cared her on his own previously and her mother had had no concerns.'
Recommendations of the Aya SCR included a need for services to 'Think Father'. It was felt that: 'Professionals did not include Aya's father as much as they could have in the support offered to the family. Appointments were not made at times he could attend and he was not provided with the same information as Aya's mother…Father's needs and social histories should form an equal part to any family assessment as that of the mother. Aya's father acknowledged that he 'buried my head' about the impact of this drug use and mental health difficulties. While not guaranteed, a proactive approach may have provided opportunities for her father to recognise and acknowledge these difficulties to enable professional to provide support…'
To read more about the Aya Serious Case Review, see the Bristol Safeguarding Children Board's website.
The Fatherhood Institute emphasises the importance of fathers to the lives of children:
There are an estimated six million fathers of dependent children in the UK.
The great majority of children continue to live with – or have substantial contact with – both parents.
Data from the 1992 British Household Panel Survey showed that most fathers, 85 per cent, resided with their children.
There are 1.6 million lone parent families, a tenth of which contain lone fathers.
Nine-tenths of non-resident fathers had at some time been married to, or cohabited with, the mother of their child.
But there are a number of reasons emerge as to why fathers are not currently engaged with child protection work:
Men tend to play a smaller role in the lives of their children, leading professionals to conclude that they are less significant in the process of protecting children.
Among fathers who are not particularly involved in the lives of their children, the presence of social work professionals tends to exacerbate these distant relationships rather than address them.
Fathers generally can perceive the involvement of social workers negatively.
Non-offending fathers of sexual abuse victims can believe they should avoid physical and other forms of contact with their children, or don't know how they should respond, i.e. they do nothing to 'avoid doing any harm'
Where parents have separated, mothers are often resistant to their former partners' involvement.
Professionals can perceive men, particularly those implicated in abuse, as a threat both to their clients and to themselves. This reduces the potential for working constructively with all those significant in the lives of the children, and relevant to their abuse.
And some reasons as to why fathers should be involved:
Scourfield found that despite the mutually negative perceptions of professionals and fathers, their lack of involvement in the process was usually considered to be a bad thing. There is a need to find ways to address the needs of families constructively without aggravating tensions.
Non-offending fathers can have a significant role in the recovery process if they can provide verbal, emotional, and physical reassurance to their child. Stott found in her sample of abused children, that nearly four fifths of the children had a non-offending father figure. This emphasises the potential value of involving these men in their child's support.
The NSPCC makes the following recommendations to help everyone 'Think Father':
1. Openly invite dads into the work
2. Ask about dad
3. Write to dad
4. Leave your contact details specifically for dad
5. Challenge everyday examples of things being all about mums
6. Reflect on your own experience of family
---
20th February 2018
Attachment and Trauma – why you need to know about it.
Results from a recent survey (Adoption UK, published November 2017) suggest that adopted children are 20 TIMES more likely to be permanently excluded than their peers.
These figures are clearly a huge cause for concern. But what is going on for many of these children at school that's leading schools to exclude them?
The crux of the issue is that many of these children (and many more –  not exclusively those who've been adopted, but those who've experienced adverse early experiences or had development 'disrupted' in some way) do not relate to the world in typical ways and they spend their day trying to 'survive', rather than thrive in our present day education system. Their behaviours can be mystifying to those around them, and traditional disciplinary approaches which rely on rewards and sanctions (and form the basis of many a behaviour policy) simply do not work as they might with other children. They need something different.
In order to learn, children need to be able to engage the higher parts of their brain (accessing their logical, rational and emotional parts), but those who have experienced early neglect and/or repetitive trauma spend much time living in the primitive, survival part of their brain – of course this has played a key role in keeping them safe through tough times, but as a result they can become over-reliant on it. While outwardly they may appear the same as many of their peers, the intensity, duration and frequency of particular behaviours can signal difficulties; behaviours can also often be superficial, masking what's really going on for them.
Relationships are absolutely critical to improving learning outcomes for these children, and above all to help them feel safe. If a child does not feel safe, they will not be able to learn. Their social-emotional needs absolutely have to be a priority.
---
6th February 2018
Peer Abuse: Sexual Violence and Sexual Harassment Between Children
Schools and other settings tell me a lot of their work around safeguarding is taken up with dealing with allegations made by children about other children. Recent headlines have informed us that peer abuse is rising. Last year it was reported that almost 30,000 reports of children being sexually assaulted by another child have been made in the past four years, a 71 per cent increase. Police records showed a large increase in sexual offences committed by children under ten, with some offences taking place in primary school playgrounds. Altogether 2,625 incidents took place on school premises, including 225 rapes. (BBC's Panorama – October 2017). So incidents of peer abuse are rising and affecting younger and younger children.
Furthermore it is felt (and I would definitely agree with this) that schools and other settings are finding it increasingly difficult to manage these worrying incidents appropriately. Understanding the risk of peer abuse is vital. Statutory guidance states clearly that: 'All staff should be aware safeguarding issues can manifest themselves via peer on peer abuse. This is most likely to include, but not limited to: bullying (including cyber bullying), gender based violence/sexual assaults and sexting.' (Keeping Children Safe in Education 2016)
In December 2017 the Department for Education released new non statutory guidance entitled 'Sexual violence and sexual harassment between children in schools and colleges'.
The guidance defines sexual violence as those physical acts that include rape, sexual assault and assault by penetration. Sexual harassment is defined as 'unwanted conduct of a sexual nature that can occur online and offline which is likely to: violate a child's dignity, and/or make them feel intimidated, degraded or humiliated and/or create a hostile, offensive or sexualised environment'. A much wider concept than sexual violence, sexual harassment includes sexual comments, sexual "jokes" or taunting; physical behaviour, displaying pictures, photos or drawings of a sexual nature; and online sexual harassment.
The guidance states that sexual violence and sexual harassment can:
occur between children of any sex;
occur through a group of children sexually assaulting or sexually harassing a single child or group of children;
be extremely stressful and distressing to victims and in all likelihood, adversely affect their educational attainment;
exist on a continuum and may overlap, they can occur online and offline (both physical and verbal); and
are never acceptable.
Children with Special Educational Needs and Disabilities can be especially vulnerable. Disabled and deaf children are three times more likely to be abused than their peers.
In terms of your Safeguarding and Child Protection policy and practice you should:
Recognise that children are capable of abusing their peers and that such abuse should never be tolerated or passed off as "banter" or "part of growing up".
Recognise that peer on peer abuse can take many forms, and can manifest itself in many ways, including sexting, online abuse, bullying and cyber bullying and sexual abuse (and include information on each aspect in your policy).
Understand that peer abuse is frequently gendered and that girls are more likely to be sexually touched or assaulted and boys are more likely to be subject to initiation/hazing type violence.
Be clear about how your setting intends to minimise the risk of peer on peer abuse (high quality sex and relationships education, anti-bullying procedures, strong personal and social education and specialist support and early interventions).
Be clear about how your setting will manage allegations of peer on peer abuse. You should take all allegations extremely seriously. Each incident should be investigated and dealt with, including the right to search, screen and confiscate items that may provide evidence of teen abuse. All allegations which raise a safeguarding concern should be recorded and reported to the Designated Safeguarding Lead, who should contact the local referral agency. If a crime has taken place, the police will need to be involved. Parents should be informed and updated. The setting may consider exclusion, risk assessment, or other disciplinary procedures and any plan put in place should be recorded, monitored and evaluation by everyone concerned.
Be able to support victims of peer on peer abuse.
For more information, see the Sexual violence and sexual harassment between children in schools and colleges guidance.
And another thing (which also relates to Peer Abuse)…
It's Safer Internet Day (SID) on Tuesday, 6 February 2018. The 2018 theme, "Create, connect and share respect: A better internet starts with you" is a call to action for every stakeholder to play their part in creating a better internet for everyone, in particular the youngest users out there. More than that, it is an invitation for everyone to join in and engage with others in a respectful way in order to ensure a better digital experience.
For more ideas on how to mark SID, check out the website: https://www.saferinternetday.org/
---
23rd January 2018
Changes to Guidance: Keeping Children Safe in Education 2018
On 14 December 2017, the Department for Education released two safeguarding guidance documents. One was the consultation for the new revised version of the statutory guidance 'Keeping Children Safe in Education' for September 2018, the other is non statutory guidance entitled 'Sexual Violence and Sexual Harassment between children in schools and colleges' (or what can be known as 'peer on peer' or simply 'peer' abuse).
Keeping Children Safe in Education (KCSIE) sets out the legal duties that schools and colleges (and other registered settings) must comply with, together with good practice guidance on what schools and colleges should do in order to keep children safe. Reviews to this key document seem to be happening on an annual basis, and as it is a crucial document that all staff are asked to be made aware of during their Induction, it's critical that we all aim to keep up to speed.
So right now you can have your say and gain a familiarity with the changes by undertaking the consultation.
Or you can have a read below of my checklist which will give you some idea of what changes are imminent in the document. The new KCSIE:
sets out more information on the importance of early help
clarifies responsibilities of staff when they have concerns about a child
includes a new online safety section to help to protect children online
includes summary of new advice on peer on peer abuse (relating to the new guidance)
makes clear the differences between prohibitions, directions, sanctions and restrictions within recruitment, when they would prevent an individual from being employed in a particular roles and how they can be made
gives additional guidance to emphasise the importance of confirming employment history, including exploring the reason(s) for any gaps or inconsistencies, and why the individual left their previous employment
replaces references to the Local Safeguarding Children Board with 'local multi-agency safeguarding arrangements' as required to reflect forthcoming changes in 'Working Together to Safeguard Children' (as I set out in my previous newsletter)
makes clear that information about the role of the DSL given to staff during Induction should include actually who the DSL is, and the identity of any deputies
adds links and information relating to domestic abuse, county lines and sexual violence and sexual harassment
clarifies that MATs do not need to maintain separate Single Central Records for each school.
In terms of new responsibilities and actions, schools and colleges:
must go beyond the legal minimum requirement to hold one emergency contact number for children (where reasonably possible) to address safeguarding concerns of children missing in education
can record non-mandatory information on the Single Central Record (SCR) if they choose to do so (for instance, any training undertaken)
can keep a paper or an electronic record form of an SCR
can now, when seeking references, request information on any unsubstantiated allegations (but not false or malicious allegations), which should help a new employer being able to consider potential patterns in behaviour, should an allegation of a similar nature emerge in future
should have their own individual child protection policy reflecting local circumstances, procedures and protocols (even if a proprietor of a multiple schools has its own overarching child protection policy).
should consider offering training on online safety and SEND for designated safeguarding leads.
should ensure that deputy DSLs in line with DSL have their role explicitly set out in any job description.
must minimise the risk of harm to children taking part in school exchange visits, by carrying out enhanced DBS and barred list checks on UK host (homestay) families and work with partner schools/colleges abroad to ensure satisfactory safeguarding arrangements are in place (DBS will process without charge)
should ensure that safeguarding and welfare concerns are taken into account when restraint is used on children with SEND
should ensure that, in sole proprietor owned schools, the DSL can perform their duties with 'sufficient independence' from the proprietor and their family by, for example, writing into the job description that they may need to call the LADO for advice; and that such schools should consider engaging external safeguarding consultants to support them.
The consultation asks for opinions on further clarity about the contents of the SCR, references and on carrying out overseas checks (see my previous email on this for more context). The consultation also asks for comments about the length of the document.
Click here to contribute to the consultation and to read the new proposed guidance (consultation period ends on 22nd February 2018).
The much-needed new guidance on sexual violence and harassment between children deserves its own newsletter, but in the meantime here is the link:
https://www.gov.uk/government/publications/sexual-violence-and-sexual-harassment-between-children-in-schools-and-colleges
---
9th January 2018
Has at least one member of your setting who sits on recruitment panels been trained in Safer Recruitment?
I often repeat the phrase during training that 'People who seek to sexually abuse children will seek work which means they have increased access to children.' Part of creating a culture of vigilance means ensuring that all the pre-employment and ongoing checks we carry out on staff and volunteers are carried out as a matter of absolute priority.
As an accredited Safer Recruitment trainer with the Safer Recruitment Consortium, I receive many queries from schools and other settings concerning these checks. Many of the answers are to be found in the relevant sections of 'Keeping Children Safe in Education' (2016) and the Disclosure and Barring guidance and website which contain a mine of information – but frequently there are matters that are grey areas and demand judgments to be made by the employer – which can be very challenging.
Some food for thought
Recently a very concerning case has come to light which exposes the challenge of working towards Safer Recruitment. Stephen Jackson, a 72 year old American, was dismissed after teaching for just 13 days in late September 2017 by Tendring Technology College, Essex when police alerted staff to a number of historical concerns about his behaviour – he was in fact, a notorious career paedophile.
Jackson had previously admitted to police in Santa Cruz, California, that he was attracted to 14- to 16-year-old boys, that he touched a boy's penis on a camping trip, molested a pupil aged 15 or 16, and slept in the same bed as one of his students. Jackson had adopted two children in the US in 1995 and 2000, but both were removed from his care following children's disclosures of abuse. Many of Jackson's former students have disclosed abuse and there is even an online support group set up in the USA to help them. Despite all this, Jackson had never been actually formally charged or convicted of any crime.
Jackson changed his name (at times he would be known as Stephen Myers) and moved constantly around the USA, and across the world. For over twenty years he was associated the 'Traveling School', which based its curriculum around trips, camping and staying in lodges around north America and abroad. Many allegations of abuse were raised in the USA and during a trip to South Africa during this time. Jackson has never been convicted or even charged, largely because of the American statute of limitations, which prevents prosecution of historical allegations after a certain period of time. Chances of conviction were further confuse by Jackson changing his name and by his continual movements which made his whereabouts that bit harder to track.
From 2009 – 2011, Jackson moved to the UK, and worked at a secondary school in London without the background allegations being discovered. After leaving England, he returned to the USA and taught at a school in California for twelve months until allegations from his past emerged and he left. In 2012 he legally changed his name and then in September 2012 he went on to work at a boys' boarding school in Colorado. Information about historical allegations were passed to the school four years later and he left in January 2017.
Jackson then travelled to the UK for the second time in January 2017 and was recruited by an employment agency, called Red, in June 2017. Red said it carried out checks with the FBI and Colorado Bureau of Investigations but that nothing showed up. The supply agency said that the references they received did not 'express any concerns about him working with children' and they 'received [US] police clearances [showing that he] had no criminal record.'
The core issue was that, despite a lifetime of concerns expressed about his conduct, the American teacher did not have an kind of criminal record or indeed anything else on his employment history that might give a school any cause for concern before his appointment. This is completely unlike the UK, where child protection concerns, cautions, allegations and other non-arrest information are recorded on professional records and appear on enhanced DBS checks.
Although the case highlights the importance of overseas checks, it also shows how such checks cannot always be relied on, even when they are carried out.
Keeping Children Safe in Education (2016) paragraph 114 says, 'Individuals who have lived or worked outside the UK must undergo the same checks as all other staff in schools or colleges. In addition, schools and colleges must make any further checks they think appropriate so that any relevant events that occurred outside the UK can be considered.' This leaves the onus on the school to set their own policy. Unfortunately, the government are unlikely to ever set statutory guidance on overseas checks because there is such a wide variability across the world. Schools need to be hyper-vigilant when appointing people from overseas, and follow as many vetting avenues as possible.
Jackson is believed to have returned to the US and the case is being investigated by the NCTL.
---
5th December 2017
What You Need to Know About the Impact of Poverty on Child Abuse
This week I am hearing continually on the news about the steep rise in numbers of people living in poverty in the UK – high rates of extreme poverty which are affecting millions of families with children right now. While I do talk about this on my training, often any reference to the relationship to abuse and poverty is fairly fleeting. In actual fact, awareness of the issue is crucial if we are genuinely seeking to ensure all our children are safeguarded and can achieve the best possible outcomes.
Poverty affects one in four children in the UK today. There were 4 million children living in poverty in the UK in 2015-16. That's 30 per cent of children, or 9 in a classroom of 30.
Child poverty reduced dramatically between 1998/9-2011/12 when 800,000 children were lifted out of poverty. Since 2010, child poverty figures have flat-lined.
As a direct result of tax and benefit decisions made since 2010, the Institute for Fiscal Studies project that the number of children in relative poverty will have risen from 2.3 to 3.6 million by 2020 (poverty figures before housing costs).
Work does not provide a guaranteed route out of poverty in the UK. Two-thirds (67 per cent) of children growing up in poverty live in a family where at least one member works.
Families experience poverty for many reasons, but its fundamental cause is not having enough money to cope with the circumstances in which they are living. A family might move into poverty because of a rise in living costs, a drop in earnings through job loss or benefit changes.
Child poverty blights childhoods. Growing up in poverty means being cold, going hungry, not being able to join in activities with friends. For example, 59 per cent of families in the bottom income quintile would like, but cannot afford, to take their children on holiday for one week a year.
Poverty is also related to more complicated health histories over the course of a lifetime, again influencing earnings as well as the overall quality – and indeed length – of life. Men in the most deprived areas of England have a life expectancy 9.2 years shorter than men in the least deprived areas. They also spend 14% less of their life in good health. Women share similar statistics.
Childcare and housing are two of the costs that take the biggest toll on families' budgets. When you account for childcare costs, an extra 130,000 children are pushed into poverty.
(Updated November 2017. All poverty figures are after housing costs, except where otherwise indicated) – Child Poverty Action Group
In September 2012, the Joseph Rowntree Foundation launched a new four-year programme to produce evidenced and costed anti-poverty strategies for all age groups and each nation of the UK. JRF commissioned a range of evidence and policy reviews to examine the links between poverty and specific topics and look for evidence about effective solutions in policy and practice.
Poverty is neither a necessary nor sufficient factor in the occurrence of childhood abuse and neglect. Many children who are not from families in poverty will experience childhood abuse and neglect in some form and most children in families who are living in poverty will not experience it. Childhood abuse and neglect is caused by many interlocking factors . Nevertheless there is lots of evidence that suggests that poverty leads to child abuse.
There is a strong association between families' socio-economic circumstances and the chances that their children will experience abuse and neglect. This association exists across developed countries, types of abuse, definitions, measures and research approaches to both poverty and abuse and neglect, and different child protection systems. This conclusion can be drawn despite major limitations in the evidence from the UK.
The relationship is a gradient between family socio-economic circumstances and rates of childhood abuse and neglect across the whole of society, not a simple divide between families in poverty and those which are not. This finding mirrors evidence about inequities in child health and educational outcomes. The greater the economic hardship the greater the likelihood and severity of childhood abuse and neglect.
The limited evidence from the UK, and uncertainties about transferring evidence from other countries, particularly the US where the majority of research has taken place, makes it hard to determine whether or to what extent some groups of children and some forms of abuse and neglect are more closely related to socio-economic circumstances than others.
Although there is evidence of 'bias' in child protection systems which affects the proportion of children in different circumstances that have contact with child protection services, this is insufficient to explain or undermine the core association between poverty and the prevalence of childhood abuse and neglect.
The family stress model is central to any explanation as to why the association between poverty and child abuse is so pronounced. The evidence suggests that this interacts with other factors affecting parenting to increase or reduce the chances of childhood abuse and neglect:
parenting capacity, for example affected by mental and/or physical illness, learning disabilities, (lack of) prior education, shame and stigma;
family capacity for investment, for example to buy care, respite or better environmental conditions;
negative adult behaviours, for example domestic violence or substance use, perhaps provoked or exacerbated by family stress;
positive adult and child behaviours, promoting social support and resilience;
external neighbourhood factors: the social and physical environment.
These interactions between poverty and other contributory factors are complex and frequently circular. For example, poverty increases the risk of mental ill-health and mental ill-health increases the likelihood of poverty. Parental substance use accompanied by poverty is more likely to lead to contact with child protection services than substance use in a position of affluence. The conception of poverty as a contributory causal factor is supported by evidence from experimental or quasi-experimental studies in the US that raising the income of families in poverty had a statistically significant impact in reducing childhood abuse and neglect rates.
Read the JR research on child abuse and poverty here: https://www.jrf.org.uk/report/relationship-between-poverty-child-abuse-and-neglect-evidence-review
---
15th November 2017
Consultation: Working Together to Safeguard Children 2018 
My very experienced social worker colleagues have told me that changes to national laws and guidance in relation to safeguarding used to be expected every 10-15 years. Nowadays, as I like to share on my safeguarding training, the pace of change has vastly increased and major reviews of legislation and/or key guidance now occur with a rapidity and depth that is extremely challenging (which is just one of the reasons why safeguarding refreshers are so important!). It is therefore advisable to be ahead of the game –  so I am sharing with you in advance major proposed changes to statutory guidance that will have huge repercussions for all of us.
Following the Royal Assent of the Children and Social Work Act 2017 earlier this year, the government has launched a consultation on its proposed changes to the statutory guidance 'Working Together to Safeguard Children' (WTSG) for publication in 2018. The last WTSC review took place in 2015.
The big headline news is that the new guidance intends to ensure that:
Local Children Safeguarding Boards (LCSBs) are going to be replaced with 'local safeguarding partners' and their 'relevant agencies'.
A new national Child Safeguarding Practice Review Panel will be set up to give national direction and coordination to local Serious Case Reviews.
Responsibility for child death reviews will be transferred from Local Safeguarding Children Boards to new Child Death Review Partners.
So what does this mean in practice?
It is proposed that there will be new flexible local safeguarding arrangements led by three 'safeguarding partners':
local authorities;
chief officers of police; and
clinical commissioning groups.
This effectively means that local authorities will no longer be solely responsible for safeguarding leadership as they currently are through Local Safeguarding Children Boards (LSCBs). By including police and health as joint and equal partners, the structure will recognise that society's perspective on safeguarding issues is developing; from the traditional understanding of interfamilial abuse to a more complex spectrum which involves issues including radicalisation, internet safety and public health. This issue – of recognising that abuse can occur outside of the family context – was one of the factors in recent Child Sexual Exploitation cases, where it was noted that safeguarding processes were not really designed to spot abuse taking place from criminal, sometimes organised, abusers.
It is proposed that the safeguarding partners will have a duty to make arrangements to work with any 'relevant agencies' for the purpose of safeguarding and promoting the welfare of children in their area. 'Relevant agencies' will be the term used to describe all the bodies and groups whose functions within a local area play a crucial role in coordinating the safeguarding and welfare of children.
The agencies currently comprise the current statutory membership of Local Safeguarding Children Boards so it is thought there will be little change there. But the proposed guidance will also specifically state that the role of schools must be recognised as key safeguarding partners: All schools (including maintained schools, special schools, independent schools, academies and free schools) have key duties in relation to safeguarding children and promoting their welfare…we expect all local safeguarding arrangements to contain explicit reference to how the safeguarding partners plan to involve, and give a voice to, all local schools and academies in their work.'  Not a safeguarding partner as such, school are still expected to play a key role in safeguarding arrangements.
It is proposed that the safeguarding partners will have much more flexibility than LSCBs to determine the geographical boundaries for their area (which may include two or more local authority areas), which relevant agencies they should work with, how safeguarding arrangements should work in their area, how to provide for independent scrutiny of their work and the best way to secure appropriate and sustainable funding. It could mean that, in the Bristol area, safeguarding arrangements would be citywide across different local authority boundaries, and incorporate parts of South Glos, BANES and North Somerset. It may mean that the current completely different ways of referring for Child Protection and Early Help across different local authority boundaries – confusing for professionals and parents – may be made much more consistent.
On the other hand, there is an awful lot of work to do and safeguarding partners will still be expected to raise their own funding to pay for most of their work. The proposals make it clear that there will be no clear format or set template to standardise referral procedures nationally, which is always a real concern for some of my learners when first encountering the range of different and difficult to interpret 'Threshold Documents' produced by each local authority (the requirement to produce Threshold documents dates from WTSC 2013 but so many people are still unfamiliar with them in my experience).
The consultation document says that 'clear criteria for taking action are made available to relevant agencies and others in a transparent, accessible and well-understood way', but it is proposed that the new guidance is now not even going to stipulate that a Threshold Document is going to have to be written – what the referral procedures are and how the 'clear criteria' are communicated will be left up to the ideas of the safeguarding partners. The danger is that the systems may become even more inconsistent nationally.
As the LSCBs have before them, it is proposed that the new safeguarding partners will have to identify and arrange for the review of serious child safeguarding cases which they think raise issues of importance in relation to their area. But proposals outline how they will also be required to liaise with a newly established national Child Safeguarding Practice Review Panel which will commission and publish reviews of serious child safeguarding cases which it thinks raise issues that are complex or of national importance. I think this is a welcome development as access to locally held Serious Case Reviews can be inconsistent (I've certainly struggled to get hold of some for research purposes), the learning lacks direction and any recommendations are not automatically given a national platform.
The consultation also proposes some minor changes which reflect current concerns. For instance, allegations of non-recent abuse in sport have raised the profile of this issue. There will be a stated need to strengthen links between local authorities and statutory services with the sport sector.
It is important that your voice is heard in regard to these proposed changes.
The consultation will end on 31st December 2017 and all the documents can be found here.
There is also a series of face to face consultation events across the country, the most local being in Bristol: 4th Dec 2017 at 10:00 – 13:00 More information about the event Bristol consultation event  – at RSC Office, 2 Rivergate, Temple Quay, Bristol BS1 6EH.
If you wish to book a place on this event please email workingtogether2017.consultation@education.gov.uk
---
31st October 2017
Cultural Competence in Safeguarding – and the sad case of Baby L
A few years ago Serious Case Reviews (SCRs) were generally long, rambling documents that seemed to be designed to sit on the shelves of strategy leaders and left to gather dust. In recent years, there has been a change of heart and now every member of the children's workforce is encouraged to have a wide knowledge of local and national Serious Care Reviews. I agree that SCRs can be a great resource for learning, enabling all professionals to improve their practice.
Recently a setting in Bristol asked me to put together some training relating to the recommendations of a SCR concerning the death of 'Baby L' in Bristol last year. Amongst other issues, the case brought up the challenges of safeguarding and cultural competence.
Baby L was found dead in a suitcase in the home in South Bristol where her Mother and siblings lived with her sister's family. Her Mother had denied her pregnancy and Baby L only came to light when her mother attended hospital with a suspected miscarriage, claiming that Baby L had not been born alive. When Baby L was discovered the evidence suggested she had been alive at birth. The Mother was convicted of the baby's manslaughter with diminished responsibility as a result of a "pathological denial of pregnancy". It was clear that no professional could have prevented the death of Baby L.
But the SCR did make some other observations of note particularly concerning the safeguarding implications of cultural difference. The Mother had English as a second language and her English language skills were limited; her sister provided her support with interpretation with professionals. Interestingly the SCR highlighted the fact that the Mother had a learning disability masked by having English as a second language and the interpreting skills of her sister – something services were unaware of. The SCR also recognised the family was poor and disadvantaged by being relatively newly arrived in the UK. There were also worries about whether Mother might be vulnerable to domestic violence and abuse, exploitation and Human Trafficking, which can be associated with cultural abuse.
The SCR of Baby L states that research highlights that professionals sometimes lack the knowledge and confidence to work with children and their families from different cultures and religions. It suggested that professional practice could have been enhanced by the use of the Culturagram. The Culturagram was developed by an American social worker, Dr Elaine Congress in the 1990s. It is a family assessment tool designed to help social workers and others understand better families from different cultural backgrounds. It gives professionals an opportunity to understand their culture on an individual basis rather than generalising them to a cultural group.
The Culturagram consists of a diagram with 10 different aspects; culture as not being a singular concept; it is subsumed by race, ethnicity, national origin and religion, as well as circumstances, context, values and beliefs.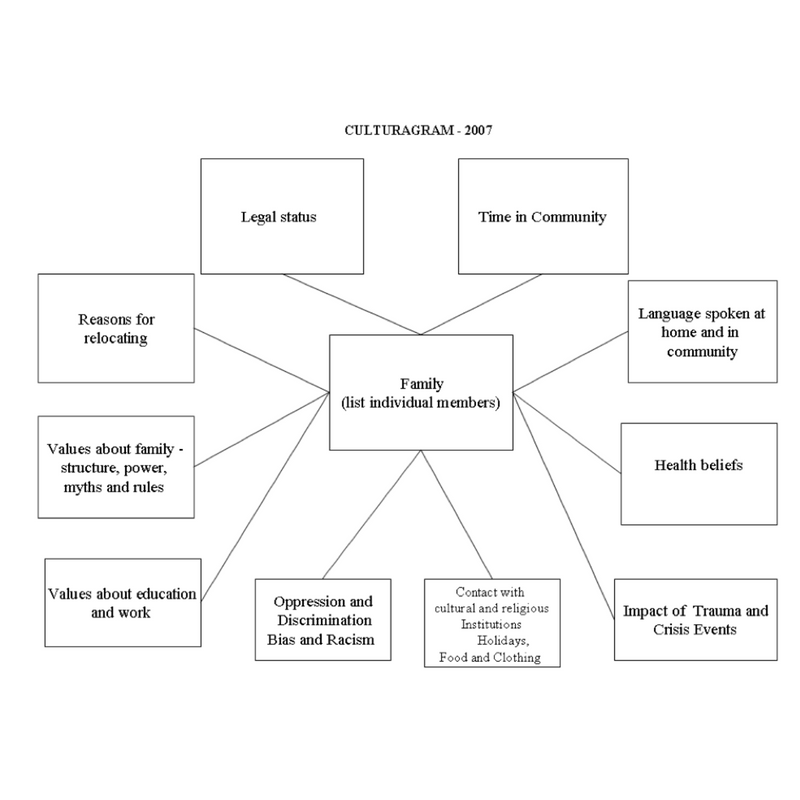 The idea is that the practitioner uses the model of the Culturagram to come up with a series of questions that will help them to fully understand the beliefs and circumstances of individuals from different cultures. Starting with 'Reasons for relocating', the practitioner should ask questions relating to each box in a clockwise direction and give the subject the opportunity to fully describe and paint a picture of their life in a way that is clear and thorough. The Culturagram recognises that practitioners can sometimes back away from asking questions that may cause offence but offers the possibility of genuine and open dialogue that help us to understand the families much more holistically and much more individually. And if this is done, we will have a better understanding of the child's safety and welfare.
I encourage you to share this tool in your setting and to feedback to me about its usefulness.
The Serious Case Review of Baby L can be read here:
https://bristolsafeguarding.org/children-home/serious-case-reviews/bristol-scrs/
---
10th October 2017
What Do We Mean by Child-Centred Safeguarding?
In 2000 in London, an eight-year-old girl from the Ivory Coast, Victoria Climbié, was tortured and murdered by her guardians. During the abuse, Climbié was burnt with cigarettes and scalded with boiling water, tied up for days, and hit with bike chains, hammers and wires. Up to her death, the police, the Social Services Department of four local authorities, the NHS, the NSPCC and local churches all had contact with her, and noted the signs of abuse. However, in what the judge in the trial following Climbié's death described as "blinding incompetence", all failed to properly investigate the case and little action was taken. Kouao and Manning, her abusers, were convicted of murder and sentenced to life imprisonment.
After Climbié's death, those involved in her case were widely criticised. A public inquiry, headed by Lord Laming, was ordered. It discovered numerous instances where Climbié could have been saved. The case was deemed an example of services carrying out child protection measures that failed to notice the child at the centre of it all – none of the reports, assessments, plans, interviews or anything else carried out in her name actually impacted directly on her life or saved her from her horrific death at the hands of her abusers. Nobody took the time to even speak to her directly about what was happening.
When I deliver my training, I say to participants that safeguarding is all about values. It is all about our beliefs of how we can best look after children and how we can best help them to thrive. I also add that, as a trainer, I can offer participants a ton of knowledge and opportunities to develop safeguarding skills – but, if they do not share core values about safeguarding it will be difficult to grasp what it is all about.
One of the core values that everyone in the children's workforce must share is ensuring that their safeguarding practice is child-centred. In fact, it could be argued that most of the mistakes that are made and turn up in Serious Case Reviews reflect practice where practitioners have forgotten the child in the midst of their other priorities.
So what is child-centred practice? There is a wealth of law and guidance setting this out for us.
The Children Act 1989 requires us to 'give due regard to a child's wishes when determining what services to provide… and before making decisions about action to be taken to protect individual children. Services should 'complement requirements relating to the wishes and feelings of children…' and that the child's 'family structures, culture, religion, ethnic origins and other characteristics should be respected.' I argue that this was the first significant piece of child-centred legislation.
Current UK statutory guidance, Working Together to Safeguard Children' (2015) sets out clearly the need for child-centred practice: 'Effective safeguarding systems are child centred. Failings in safeguarding systems are too often the result of losing sight of the needs and views of the children within them, or placing the interests of adults ahead of the needs of children.'
Rather brilliantly, 'Working Together' took time to set out what exactly child-centred practice meant to children (a child-centred way of defining what is meant by child-centred). Groups of children and young people were asked what was important for them, and their responses are outlined in the document. They said the following were important:
Vigilance: to have adults notice when things are troubling them
Understanding and action: to understand what is happening; to be heard and understood; and to have that understanding acted upon
Stability: to be able to develop an on-going stable relationship of trust with those helping them
Respect: to be treated with the expectation that they are competent rather than not
Information and engagement: to be informed about and involved in procedures, decisions, concerns and plans
Explanation: to be informed of the outcome of decisions and reasons when their views have not met with a positive response
Support: to be provided with support in their own right as well as a member of their family
Advocacy: to be provided with advocacy to assist them in putting forward their views.
For more information: https://www.gov.uk/government/publications/working-together-to-safeguard-children–2
Practical actions we should all take to ensure our practice is child-centred include:
– Seeing and speaking to the child alone when appropriate;
– Keeping the child in focus throughout assessments;
– Reviewing whether the child is safe and his or her needs are being met;
– Ascertaining the child's wishes and feelings; and
– Understanding the meaning of their daily life experiences to them.
Where a child or parent is disabled, it may be necessary to provide help with communication to enable the child or parent to express him/herself to the best of his or her ability. If a child or parent speaks a language other than that spoken by the interviewer, an interpreter should be provided. And if a child is unable to take part in an interview because of age or understanding, alternative means of understanding the child's wishes or feelings should be used, including observation where children are very young or where they have limited communication skills.
And as shared by one Headteacher on the Advanced Safeguarding course I delivered last week: 'Signs of Safety methodology can offer professionals a great opportunity to have meaningful dialogue with children'.
---
6th September 2017
Safeguarding Policies – what you need to know
Many settings have been able to take a break for a few weeks over the summer, while others have worked throughout August. However you have spent the last few weeks, September always seems to offer the opportunity to review and refresh practice in many respects. In terms of safeguarding, that may mean delivering refresher training to staff and/or reviewing policy and practice.
I recommend that all settings review their safeguarding policies at least annually (although statutory guidance often stipulates a longer maximum time between revisions). Revisions can also take place before then if there is a major change in law, guidance or procedure throughout the year. These days the changes to guidance and law come so frequently I think it is good practice – and actually easier to manage – to check all your policies at the same time every year.I am often asked to revise and overhaul the safeguarding policies of different organisations and I always find that what policies they have and how they decide to set them out is completely unique to that particular setting. If the definition of safeguarding is anything that enables all children to have the best possible, outcomes, then safeguarding policies should be in place to clarify anything that affects their overall welfare.
So here is my list of possible related safeguarding policies which I suggest you have in place – but in itself it may not be exhaustive! Some policies may not apply to your setting, and some policies can be subsumed or combined with other policies.
Accessibility
Admissions
Adopted or Looked After Children
Allegations (staff)
Appraisals (staff)
Anti-bullying
Arrivals and Departures
Attendance
Behaviour
Birthdays and Gifts
Child Protection (includes FGM and Prevent)
Code of Conduct (staff)
Communications
Complaints
Confidentiality
Curriculum
Data Protection
Displays
e-Safety
Early Help
Equalities
Escalation
Fire and Evacuation
Health and Safety
Healthy Eating
Home School Agreement
Induction (staff)
Intimate Care
Lettings
Lockdown
Lost Children
Medical Conditions
Mobile Phone
Outdoor Play
Outings and Trips
Outreach (home visits)
Parent Prospectus/Information
Premises Management
Race Equality
Radicalisation
Recruitment and Selection
Safeguarding
Smoking and Drugs
Sex Education
Special Education Needs
Supervision (staff)
Teaching and Learning
Uncollected Children
Visitors
Volunteers and Students
Whistleblowing
All maintained schools, maintained special schools, academies, free schools (including university technical colleges and studio schools), non-state-funded independent schools, pupil referral units, sixth-form colleges, further education colleges with 16 to 19 provision and non-maintained special schools must have certain policies in place as required by law and/or statutory guidance.
Most education settings must have the following policies which relate to safeguarding in place: accessibility, admissions, allegations of abuse against staff, behaviour, complaints, child protection (including FGM and Prevent), data protection, early years foundation stage (if relevant), equality information and objectives, health and safety, home school agreement, medical conditions, premises management, sex education, special educational needs and staff discipline/conduct.
Drafting policies is no one staff member's job and indeed the task can be commissioned out.
For more information on statutory guidance on policies for schools check out:
https://www.gov.uk/government/publications/statutory-policies-for-schools
Don't forget to also annually review the safeguarding information which appears on your website, which for most will mean ensuring the policies that appear are the most updated version. For schools, there is statutory guidance on the policies which must appear online (according to The School Information (England) (Amendment) Regulations 2016). Online related safeguarding policies should include: admissions, curriculum, behaviour, complaints, SEN and disability information, equality objectives and values and ethos of the school.
For more information on what schools need to publish online, check out:
https://www.gov.uk/guidance/what-maintained-schools-must-publish-online
---
20th June 2017
What do you put in your Whistleblowing Policy?
I am spending much of my time at the moment reviewing, updating and writing a number of related safeguarding policies for a school in Bristol. What makes it a bit easier is the fact that I have done it on many occasions for a range of different settings – but then again, each setting is unique and shaping policies to fit specific needs is the challenging part.
Anyway, I thought you might find it useful to have some insight on what I might be putting in just one essential related safeguarding policy – the Whistleblowing policy. Below is a list of major headings within the policy and a little excerpt of suggested relevant content. Let me know if you find it useful.
Rationale: Why is Whistleblowing important? Ensuring a safe, legal, and fair workplace and to the highest standards of openness, integrity and accountability, encouraging the raising of concerns and for individuals to speak out against wrongdoing.
Aim: To encourage individuals to raise concerns about any wrongdoing, provide support and advice to Whistleblowers.
Definitions: 'Whistleblowing is the term used when someone who works in or for an organisation wishes to raise concerns about malpractice, wrongdoing, illegality or risk in the organisation …'
Implementation: How will you ensure everyone knows about this policy and adheres to it? Should be shared in Induction, part of regular Safeguarding training.
Other policies: Whistleblowing works in conjunction with Anti-bullying, Behaviour, Safeguarding and Child Protection, Complaints.
Monitoring and Review: I advise ongoing monitoring and annual review.
Law and Guidance: 'Currently the Public Interest Disclosure Act 1998, known as the Whistleblowing Act, protects people in the workplace who raise concerns about child safeguarding and welfare systems, financial malpractice, danger, illegality, or other wrongdoing..'
Type of incident or behaviour covered: Misconduct involving a child/performance/conduct that puts at risk the safety of a child/ inappropriate/sexual relationships between a member of staff in a position of trust and a student…
Independent Advice: Staff can seek this through their union or professional body or the independent Whistleblowing charity Public Concern at Work (telephone 020 7404 6609, or email at helpline@pcaw.co.uk).
Confidentiality and Anonymity: Encourages individuals to disclose their identity to those who need to know it; this ensures a thorough investigation and that the matter is dealt with appropriately and feedback to be provided.
Procedure and Investigation Process: Raise their concerns internally with line managers; the Headteacher/Manager; a Trustee or Governor.
Referral outside the setting: Contact the Ofsted Whistleblowing hotline in three ways: call on 0300 123 3155 (Monday to Friday from 8.00am to 6.00pm)/email at whistleblowing@ofsted.gov.uk/ write: WBHL, Ofsted, Piccadilly Gate, Store Street, Manchester M1 2WD.
Staff can now also ring the NSPCC Whistleblowing Advice Line, which can be reached on 0800 028 0285. www.nspcc.org.uk/fighting-for-childhood/news-opinion/new-whistleblowing-advice-line-professionals/
For other matters, staff can also contact: Audit Commission (telephone 020 7828 1212); the Police (Avon and Somerset Constabulary – local rate telephone number is 0845 4567000); their trade union; or their solicitor.
---
6th June 2017
Preventing terrorism: are you complying with the Prevent Duty?
Two weeks ago I was booked to deliver some training on the Prevent Duty. When I turned on the radio first thing on that morning, I realised it was going to be no ordinary day. I learned that the night before a suicide bomber had killed 22 people at a music concert in Manchester. Many of the dead were young girls. I was shaken by the accounts of families searching for their loved ones, of the rising body count and of all the details of the bloody tragedy as they unfolded. It was the biggest attack this country had seen in ten years, and it took place on the anniversary of the murder of Lee Rigby.
I felt very emotional driving to the training and on the way decided to acknowledge what had happened by checking in with the participants at the start of the session.
Never has my work felt more relevant. This week, with news of another terrorist incident in the streets of London, our minds have become even more focused towards tackling extremism. More than ever before, I believe that all settings who work with children and families need to be crystal clear when it comes to their role in preventing terrorism.
From 1 July 2015 schools and childcare settings are subject to a Duty under section 26 of the Counter-Terrorism and Security Act 2015, to have "due regard to the need to prevent people from being drawn into terrorism'. This is known as the Prevent Duty.
When I am carrying out a Safeguarding Audit in my role as a Safeguarding Consultant, I look for the following to ensure the setting is fully up to date with Prevent:
A clear and up to date Radicalisation policy in place, preferably integrated with the Safeguarding and Child Protection Policy which includes information on reporting, recording and referring concerns.
Comprehensive training in Prevent offered to the whole staff, volunteers and governors/trustees which should include knowledge of what radicalisation means, why people may be vulnerable to it, how to challenge extremism and referral pathways. I would also recommend that the Designated Safeguarding Lead and their deputy should attend training in Prevent at more depth to be fully informed about their key leadership role in challenging radicalisation.
A detailed Risk Assessment which should clearly demonstrate an awareness and understanding of the risk of radicalisation at their particular setting.
Evidence of effective partnership working and links with key agencies that are working on Prevent strategies and combatting terrorism.
Clear policies, procedures and coordination seeking to keep children safe online. I also recommend twilight training for Parents on eSafety to reinforce safety messages in the home.
Staff members who are able to identify 'at risk' children and are aware of what to do when vulnerable children are identified.
A broad range of learning opportunities for children that promote fundamental British values, provide a safe space to enable everyone to understand the risks associated with terrorism and help children develop the knowledge and skills to be able to challenge extremist arguments.
 Key Information regarding referrals for Prevent in Bristol
Concerns should be made to:

First Response (if involving children): 0117 903 6444 (Bristol only)
Care Direct (if involving vulnerable adults): 0800 002 9227 (Bristol only)
If anyone is in immediate danger call 999

For information and advice:

Police Prevent Team: 0117 9455539 (Bristol only)
Confidential anti-terrorist hotline: 0800 789 321
Visit your local police station
Local police officer or PCSO: 101
Crimestoppers: 0800 555 111

Online reporting of suspected terrorism can be made to:

Up to date local information on Prevent can be found on this webpage: https://www.avonandsomerset.police.uk/newsroom/features/preventing-terrorism-and-extremism/
Mandy Parry Training will be delivering Prevent training suitable for
Designated Safeguarding Leads
on
Thursday 2nd November 2017
. For more information, contact Shelley:
shelley.brown@delegatedservices.org
---
16th May 2017
What is the role of the Designated Teacher?
It is Foster Care Fortnight to help raise awareness of fostering and of children in foster care. I frequently deliver Safeguarding: Basic Awareness training for foster carers and have immense respect for their wisdom, humour and resilience. Children in Care are extremely vulnerable as most have faced abuse, trauma and/or neglect and the support they receive from services must therefore be well-informed, responsive and seamless. This is why the role of the Designated Teacher in schools is so important.
The Designated Teacher (DT) has a leadership role in promoting the educational achievement of Children in Care.The DT should make a positive difference by promoting a culture where the personalised learning needs of every child in Care matters and their personal, emotional and academic needs are prioritised. Broadly, the duties of a DT include:
support staff to understand the things which can affect how Children in Care learn and achieve;
contribute to the development and review of policies to ensure that they do not unintentionally put Children in Care at a disadvantage;
make sure, in partnership with other staff, that there are effective and well understood procedures in place to support the learning of a child in Care;
promote a culture in which Children in Care are able to discuss their progress and be involved in setting their own targets, have their views taken seriously, are supported to take responsibility for their own learning, and where they can succeed and aspire;
make sure that Children in Care are prioritised in any selection of pupils who would benefit from one-to-one tuition and that they have access to academic focused study support;
promote good home-school links through contact with the child's carer;
have lead responsibility for the development and implementation of the child's Personal Education Plan.
For more information on the role of the Designated Teacher:
https://www.gov.uk/government/publications/designated-teacher-for-looked-after-children
For more information on the support and resources available for Designated teachers in Bristol:
https://www.bristol.gov.uk/schools-learning-early-years/resources-professionals/designated-teachers-in-bristol-schools
---
2nd May 2017
What do you need to know about Fabricated and Induced Illness syndrome?
My Safeguarding: Basic Awareness training is an opportunity to learn about and discuss a range different types of abuse with the aim of ensuring participants are better prepared to spot potential risks to children. One of the most challenging types of abuse in terms of understanding and awareness is Fabricated and Induced Illness Syndrome. Fabricated and Induced Illness Syndrome (FIIS), is a form of mental disorder in a parent or carer.
It covers a wide range of symptoms and behaviours involving seeking healthcare for a child, and ranges from extreme neglect to induced illness. Children affected by FIIS may be at risk of significant harm. FIIS used to be known as 'Munchausen's syndrome by proxy' (not to be confused with Munchausen's syndrome, where a person pretends to be ill or causes illness or injury to themselves).
In more than 90% of reported cases of FIIS, the child's mother is responsible for the abuse. However, there have been cases where the father, foster parent, grandparent, guardian, or a healthcare or childcare professional was responsible.
FIIS can involve children of all ages, but the most severe cases are usually associated with children under five. Staff may be concerned that children may be at risk of FIIS if they observe these possible symptoms:
discrepancies between reported and observed medical conditions, such as the incidence of fits;
attendance at various hospitals, in different geographical areas;
development of feeding / eating disorders, as a result of unpleasant feeding interactions;
child developing abnormal attitudes to their own health;
non organic failure to thrive – a child does not put on weight and grow and there is no underlying medical cause;
speech, language or motor developmental delays;
dislike of close physical contact;
attachment disorders;
low self esteem;
poor quality or no relationships with peers because social interactions are restricted;
poor attendance at school and under-achievement;
parent (likely to be the mother) who expresses an unnatural concern for the health or welfare of their child.
It's difficult to estimate how widespread FIIS is because many cases may go unreported or undetected. One study published in 2000 estimated 89 cases of FIIS in a population of 100,000 over a two-year period. However, it's likely that this figure underestimates the actual number of cases of FIIS. FIIS is difficult to spot because the perpetrator will usually appear concerned about the welfare of their child and may be determined to manipulate and deceive healthcare services.
The reasons why FIIS occurs aren't fully understood. In cases where the mother is responsible, it could be that she craves the attention of playing the role of a "caring mother". A large number of mothers involved in FIIS have borderline personality disorders characterised by emotional instability, impulsiveness and disturbed thinking. A proportion of these mothers also have Munchausen's syndrome. Some carers have unresolved psychological and behavioural problems, such as a history of self-harming, or drug or alcohol misuse. Some have experienced the death of another child. There have also been several reported cases where illness was fabricated or induced for financial reasons – for example, to claim disability benefits.
If staff suspect that someone is fabricating or inducing illness in their child, they shouldn't confront them directly. It's unlikely to make the person admit to wrongdoing, and it may give them the opportunity to dispose of any evidence of abuse. The Designated Safeguarding Lead should contact the local safeguarding referral service.
---
28th March 2017
What safeguarding training is absolutely essential?
I am frequently asked exactly what safeguarding training is needed for staff who work with children in registered settings. Unfortunately this important information is not collated in one key document – instead it must be derived from a series of national and local guidance documents.
Another issue I am often asked about is the matter of 'levels' – people request training from me at Level 1 or 2 or 3 (or even higher!). In fact, there are no nationally agreed levels of safeguarding (apart from within the health services who have their own unique training programme) – so talk of levels is generally misleading and confusing. Safeguarding training should focus on content rather than levels.
And yet another important matter is the role of the Local Safeguarding Children Board, whose job it is to monitor and evaluate the effectiveness of training. In Bristol, trainers are 'Verified' by the Bristol Safeguarding Children Board to ensure they are effective. Mandy Parry Training employs only locally Verified safeguarding trainers.
Anyway, here are just some of the key documents which contain information on essential safeguarding training:
Keeping Children Safe in Education 2016 (a)
Working Together to Safeguard Children 2015 (b)
Ofsted: Inspecting safeguarding in early years, education and skills settings 2016 (c)
Revised Prevent Duty Guidance: for England and Wales 2015 (d)
Local Safeguarding Children Board (LSCB) training requirements which are specific to each individual local authority
And this is the essential training staff should have:
1. Induction training
'Governing Bodies and proprieties should ensure that all staff members undergo safeguarding and child protection training at induction. The training should be regularly updated. Induction and training should be in line with advice from the LSCB.' (a)
'…staff, leaders, governors and supervisory bodies (where appropriate) and volunteers receive appropriate training on safeguarding at induction, that is updated regularly.' (c)
Excellent Safeguarding Induction training with input from Mandy Parry is available from Delegated Services.
2. Awareness training for all staff
'In addition all staff members should receive regular safeguarding and child protection updates (for example , via email, e-bulletins, staff meetings) as required, but at least annually, to provide them with relevant skills and knowledge to safeguard children effectively.' (a)
'Professionals working in universal services have a responsibility to identify the symptoms and triggers of abuse and neglect, to share that information and work together to provide children and young people with the help they need. Practitioners need to continue to develop their knowledge and skills in this area. They should have access to training to identify and respond early to abuse and neglect, and to the latest research showing which types of interventions are the most effective. … The training should cover how to identify and respond early to the needs of all vulnerable children, including: unborn children; babies; older children; young carers; disabled children; and those who are in secure settings (b)
'…staff are supported to have a good awareness of the signs that a child or learner is being neglected or abused…There are clear and effective arrangements for staff development and training in respect of the protection and care of children and learners… safeguarding is an important part of everyday life in the setting, backed up by training at every level.' (c)
Excellent Safeguarding: Basic Awareness training for staff is offered in-house and through Open Courses by Mandy Parry Training. Mandy Parry also works in partnership with Delegated Services to deliver Safeguarding Basic Awareness training in-house.
3. Designated Safeguarding Lead (DSL) training
'The designated safeguarding lead and any deputies should undergo training to provide them with the knowledge and skills required to carry out the role. The training should be updated every two years…Any deputies should be trained to the same standard as the designated safeguarding lead.' (a)
'The designated safeguarding lead should undertake Prevent training.' (a)
'…there is a designated senior member of staff in charge of safeguarding arrangements who has been trained to the appropriate level and understands their responsibilities relating to the protection of children, young people and vulnerable adults and the safeguarding of all learners. Designated members of staff in schools and colleges should undertake safeguarding training every two years and their knowledge and skills should be refreshed at regular intervals, but at least annually.' (c)
The Local Safeguarding Board should offer interagency training for DSLs and their deputies. Excellent Advanced Safeguarding training for DSLs by Mandy Parry is available from Delegated Services.
4. Safer Recruitment Training
'The School Staffing (England) Regulations 2009 require governing bodies of maintained schools to ensure that at last one person on any appointment panel has undertaken safer recruitment training.' (a)
Safer Recruitment training from a nationally accredited trainer are available In-house from Mandy Parry, and though Open courses from Delegated Services.
5. Training to prevent terrorism
'The Prevent Guidance refers to the importance of Prevent awareness training to equip staff to identify children at risk of being drawn into terrorism and challenge extremist ideas…As a minimum, however…the designated safeguarding lead undertakes Prevent awareness training and is able to provide advice and support to staff on protecting children from the risk of radicalization.' (d)
Excellent engaging and accessible Extremism and Radicalisation in-house training is delivered by Mandy Parry, and through open courses in partnership with Delegated Services.
6. FGM Training
'…teachers understand their mandatory duty to report to police any case where an act of female genital mutilation appears to have been carried out on a girl under the age of 18.' (c)
High quality training on FGM is offered by an extremely experienced former Safeguarding Nurse through Mandy Parry Training – in-house and open courses now available.

Other useful training:
Child Sexual Exploitation – Mandy Parry Training and Delegated Services
Supervision for staff – Mandy Parry Training and Delegated Services
eSafety – Mandy Parry Training and Delegated Services
Designated Teacher for Looked After Children – contact your local LSCB
Attachment & Trauma – Mandy Parry Training (see NICE guidelines re attachment training)
Governor or equivalent training – contact your local LSCB
To contact Delegated Services: shelley.brown@delegatedservices.org
To contact Mandy Parry training:
mandyparrytraining@gmail.com or call 07811 101740
---
14th March 2017
New Safeguarding guidance in the Early Years Foundation Stage 2017
Some early years settings have recently made me aware of the new Early Years Foundation Stage 2017 – including some changes affecting safeguarding guidance.
The EYFS sets standards for the learning, development and care of children from birth to 5 years old. All Ofsted-registered early years providers in England must follow the EYFS, including: schools, childminders, preschools and nurseries. It aims to give professionals a set of common principles and commitments to deliver quality early education and childcare experiences to all children.
As well as being the core document for all professionals working in the foundation years, the EYFS framework gives parents and carers the confidence that regardless of where they choose for their child's early education, they can be assured that the same statutory commitments and principles will underpin their child's learning and development experience.
A large part of the EYFS is taken up with guidance concerning safeguarding children matters, including:
child protection
staff recruitment, qualifications and training
key workers
ratios
health
managing behaviour
safety and suitability of premises, environment and equipment
special educational needs
information and record keeping.
The new revised EYFS was published on 3 March 2017 and will come into force on 3 April 2017, and has a number of updates regarding safeguarding that should be noted. Here are the major changes in the most recent EYFS:
The need for staff training to be able to identify the signs and symptoms of female genital mutilation is clarified.
There are references to new and updated statutory government advice and guidance (e.g. Working Together to Safeguard Children 2015, and the Prevent Duty Guidance 2015), which were published since the EYFS was last updated in 2014.
The booklet 'What to do if you are worried a child is being abused' March 2015 is cited as helpful.
The document for schools 'Keeping Children Safe in Education' 2016 is now also deemed helpful for other early years practitioners outside of schools, including the information on safer recruitment, allegations and code of conduct for staff.
There is now a requirement that to count in the staff:child ratios at level 3, staff who hold an Early Years Educator qualification must also hold a level 2 English and mathematics qualification (English and Maths GCSEs at grade C or above or equivalent).
There is a new paediatric first aid (PFA) training requirement which stipulates that all newly qualified entrants to the early years workforce with a level 2 or 3 qualification must also have either a full paediatric first aid or emergency PFA certificate within 3 months of starting work.
To read the new EYFS:
https://www.gov.uk/early-years-foundation-stage
---
28th February 2017
Are you up to date with Child Sexual Exploitation (CSE)?
After a year of consultation, the government this week issued a standard definition of Child Sexual Exploitation (CSE). The new statutory definition is:
'Child sexual exploitation is a form of child sexual abuse. It occurs where an individual or group takes advantage of an imbalance of power to coerce, manipulate or deceive a child or young person under the age of 18 into sexual activity (a) in exchange for something the victim needs or wants, and/or (b) for the financial advantage or increased status of the perpetrator or facilitator. The victim may have been sexually exploited even if the sexual activity appears consensual. Child sexual exploitation does not always involve physical contact; it can also occur through the use of technology.'
The new definition clarifies that CSE is a form of sexual abuse, even though sometimes the sexual activity may appear consensual. As with all sexual abuse, CSE can include non-contact activities, and can be facilitated by the internet.
Children do not need to be using social media to fall into problems. Breck Bednar, a 14-year-old schoolboy, was lured to his death after being groomed online by Lewis Daynes in 2014. They had 'met' for a year previous to the murder whilst playing online games. Breck's mother, Lorin LaFave, set up the Breck Foundation to raise awareness of grooming and sexual abuse by other children online whilst gaming. The BBC later broadcast a powerful documentary about Breck, and, although the full programme is no longer available, short clips and teacher resources are available on the BBC site 'Murder Games'.
For more information about Child Sexual Exploitation:
https://www.gov.uk/government/publications/child-sexual-exploitation-definition-and-guide-for-practitioners
For more information on the Breck Foundation:
http://www.breckfoundation.org/
---
7th February 2017
What do we mean by an Ongoing Culture of Vigilance?
In January 2011 a twenty-year-old man called Paul Wilson came to the attention of West Midlands Police as a result of an accusation by a 13-year-old girl of online grooming. Examination of his computer revealed many indecent images, including a serious assault of a toddler which he had recorded on his mobile phone. Wilson was working at the time at a small neighborhood nursery called Little Stars in Birmingham, and the little girl he filmed was one of the children attending the setting. He was jailed for life in July 2011 after pleading guilty to raping a child. He also admitted 47 counts of grooming of teenage girls over the internet.
Wilson was first taken on by the nursery as a student. It was Wilson's second placement relating to the childcare course he was enrolled on. His first placement had taken place in a school and by all accounts it had gone well – when interviewed in prison he said he had not thought about abusing children in that setting as there were a number of rules there that would have made it difficult for abuse to take place.
Shortly after starting employment at the nursery, concerns began to be expressed amongst the staff team about the "special" relationship that Wilson had with the child who he went on to abuse. Students at the nursery commented to their college tutor that they had heard of a male member of staff at the nursery who had been taking children into the adult toilet on his own and sitting them on his lap. They weren't taken seriously. Later an incident form was completed in the nursery recording that a member of staff had heard the toddler cry out when alone with Wilson in the sleep area. The records state that the child screamed and said "I want my mummy". Nothing was done. Another worker had observed him cuddling the child, rocking her for hours at a time, wrapping her in a blanket and refusing to leave her, spending time with her to the exclusion of all others. The last was an anonymous referral to Ofsted and did not progress.
Wilson admitted that the abuse took place in the bathroom which was located off the room in which he worked. The children had been playing outside and he said the child had wanted to go to the toilet where the abuse later took place. Although mobile phones were not permitted in the nursery, they were kept in staff's coat pockets which hung in the kitchen area. The room within which the Perpetrator worked was off the kitchen and it was relatively easy for him to retrieve his phone and use it to film the abuse.
This case raises a number of issues which I highlight during my training. I think a key point is that every setting must be proactively promoting an ongoing culture of vigilance. Wilson did not have a criminal record and no concerns had ever been expressed about him before his time at the nursery. Effective recruitment processes therefore need to move beyond a focus on DBS checks. Every setting needs to communicate to staff a deep commitment that abuse will not be tolerated and work towards creating environments where abusers cannot abuse.
On the Safer Recruitment training I attended recently delivered by the Lucy Faithfull Foundation, the features of a safe culture are:
An open culture, no secrets
A belief that it could happen here
Clear procedures for reporting concerns, including whistleblowing
Support for children and adult who raise concerns and commitment to take action
A code of conduct that makes clear what is acceptable and unacceptable behaviour
Policies and procedures that are put into practice
Good induction and use of probationary periods
A commitment to safeguarding and an ongoing culture of vigilance
For more information on this and other Serious Case Reviews, see:
https://www.nspcc.org.uk/preventing-abuse/child-protection-system/case-reviews/
---
24th January 2017
How are you marking Safer Internet Day on 7 February 2017?
Are you aware that Safer Internet Day will take place on Tuesday 7th February 2017? There is still plenty of time to plan what you can do to raise awareness of online safety in your setting in a fun and accessible way.
Safer Internet Day usually sees hundreds of organisations across the country get involved to help promote the safe, responsible and positive use of digital technology for children and young people. In the UK, the Safer Internet Centre – a partnership of three leading charities; Childnet, the South West Grid for Learning and the Internet Watch Foundation – are coordinating the event and providing resources for getting involved. Globally, Safer Internet Day is celebrated in over a hundred countries.
The theme this year is 'Be the change: unite for a better internet' and will focus on the power of image in digital youth culture. Schools, youth groups, support services and other settings all over the country will be engaging in awareness raising activities including:
Lessons
Assemblies
Plays
Events
Displays
Whole school activities
Youth photo campaign
Social media campaign
Thunderclap (online flashmob)
Parent training
For tons of information and inspiration on what schools and other settings can do for the day, check out this site: https://www.saferinternet.org.uk/safer-internet-day/2017
Last year I was excited to start delivery of eSafety Information Evenings for parents in local schools in partnership with Delegated Services. While the internet and new technologies offer enormous educational opportunities to children, the associated safeguarding risks can seem overwhelming for professionals and parents. These risks include:
Grooming, pornography, revenge porn, sexting, cyberbullying, radicalisation, child sexual exploitation, trolling, hacking, hate crime, stalking, access to drugs, self-harm, pro-ana, loss of reputation and gaming addiction.
The training aims to help parents understand these risks more fully, and to help protect children from online risks by learning about available safety tools and by practicing conversations with children about staying safe online.
---
10th January 2017
What is the impact of Domestic Violence and Abuse on children?
I have been delivering training on Domestic Violence and Abuse (DVA) for many years. It is a key issue regarding the Safeguarding of children and also in developing good Sexual Health outcomes with young people. My DVA training sessions are usually emotional and deeply affecting for participants, many of whom have been directly affected by DVA.
The statistics concerning children and DVA are alarming. DVA is extremely common in families. About 1 in 7 children are estimated to have witnessed it in their homes and experts believe that right now around 130,000 children are in situations considered to be high risk (CAADA 2014).
Children experience DVA in different ways. They can be physically present or overhear the violence, or 'witness' the outcome after the event (by seeing injuries on the victim or damage to their surroundings). It is estimated that 90% of children are in the same or next room when the abuse occurs. Over half of the children living with DVA may be directly physically, emotionally or sexually abused or neglected themselves. Children can be used by the perpetrator to intimidate or blackmail the victim by threatening to harm the child. Other children can be protective of the victim, and physically or verbally defend them. A minority of children may be drawn into violence towards the victim. Some children are exposed to other risks from their parents, like substance misuse and mental ill health. Almost all children affected by DVA are compelled to being complicit in keeping the 'family secret'.
Safeguarding children affected by DVA is a key priority. 75% of children on Child Protection Plans live in families who have experienced domestic abuse, whilst at the same time it is thought that only half of children actually impacted by DVA are actually known to Social Care (CAADA). DVA is a factor in two thirds of Serious Case Reviews (Brandon et al 2010).
Professionals working with children should be aware of signs and symptoms of DVA and take every opportunity to enable victims to disclose to them. Concerns should be discussed with the Designated Safeguarding Lead of the setting and with the local referral agency, or with the Police in an emergency. All settings should be aware of and liaise with other relevant local and national support services to offer ongoing support.
For up to date information of DVA support services in the Bristol area and beyond check the following link:
http://www.bava.org.uk/types-of-abuse/domestic-violence-and-abuse/
---
6th December 2016
Why professionals working with vulnerable children need to know about attachment and trauma
Latest figures from research, recently published by Queen's University Belfast, and focused on effectiveness of nurture groups, found that about 60% of all children experience some form of loss, neglect, abuse or separation. Many of these children will not relate to the world in typical ways and they spend their day trying to 'survive', rather than thrive in our present day education system. Their behaviours can be mystifying to those around them, and traditional disciplinary approaches which rely on rewards and sanctions (and form the basis of many a behaviour policy) simply do not work as they might with other children. They need something different.
In order to learn, children need to be able to engage the higher parts of their brain (accessing their logical, rational and emotional parts), but those who have experienced early neglect and/or repetitive trauma spend much time living in the primitive 'survival' part of their brain – of course this has played a key role in keeping them safe through tough times, but as a result they can become over-reliant on it. While outwardly they may appear the same as many of their peers, the intensity, duration and frequency of particular behaviours can signal difficulties; behaviours can also often be superficial, masking what's really going on for them. Relationships are critical to improving learning outcomes for these children, and above all to help them feel safe. If a child does not feel safe, they will not be able to (cannot) learn.
Adoption UK has just launched a campaign (in association with the National Association of Headteachers) to encourage all schools to become attachment-aware, and suggest that schools might use some of their Pupil Premium (Plus) funding for staff to receive appropriate training. Of course, organisations other than schools also support children's learning and social/emotional development and should consider staff training and development in this area.
Mandy Parry Training is pleased to be able to offer a half-day basic awareness course in attachment and trauma for education professionals working with vulnerable children. This will cover trauma, attachment, impact of early trauma and attachment on the brain, and recognising different attachment styles; it also aims to equip professionals with some simple, effective practical strategies to employ to better support children who have had adverse early experiences. Find out more.
In the meantime, if you would like to begin your journey to understanding more about dealing with the impact of attachment and trauma in the classroom we recommend the book 'Inside I'm Hurting: Practical Strategies for supporting children with attachment difficulties in school' by Louise Bomber (2007).
---
22nd November 2016
What has 'Supervision' got to do with Safeguarding?
I recently attended a conference entitled: 'Reshaping Services for Children and Families' in Bristol. Much of the conference focused on how to best support professionals who were themselves engaged with supporting the most troubled families in our society. The key note speakers talked about ways to promote resilience in staff teams, workforce development and service transformation to secure sustained change for all.
Dez Holmes, the Director of 'Research in Practice', said during her keynote speech that the closest thing to having a magic wand in helping staff to cope with the challenges of Safeguarding work with families was: Effective Supervision.
As a former teacher, I knew nothing about 'Supervision' in this context. At school, 'supervision' usually meant policing the corridors and the play areas at break times. In other work contexts, it could also mean something that could happen if your work wasn't up to scratch and if you weren't trusted to carry out the work unaided.
But when I first started working in a multi-agency team alongside social workers, I quickly learned what 'Supervision' meant in terms of safeguarding. Basically, in the culture of social care work, 'Supervision' is one-to-one support, given by managers or supervisors to all staff who are carrying out demanding work with children. Supervision should provide opportunities for staff to:
discuss any issues – particularly concerning children's development or well-being;
identify solutions to address issues as they arise; and
receive coaching to improve their personal effectiveness.
Professionally, staff Supervision has been a normal part of counselling, psychotherapy and social work and is increasingly to be found in related caring professions. At a time of heightened awareness of safeguarding issues, there is increasing recognition that working with children includes a high degree of outreach work and contact with families. Many professionals find themselves working in unfamiliar contexts and dealing with unpredictable and sometimes extreme issues. The need for keeping practice staff 'safe' is a priority. If the children's workforce are to provide the kind of encouragement and support necessary for the support, development and challenge of the children and families, they need to be encouraged, supported and challenged as well.
Effective Supervision should therefore aim to:
develop confidence, and increase skills, insight and courage when working with children, parents and communities
establish and maintain a positive and co-operative working relationship between leaders and staff, built on trust, respect and a non-judgemental style
provide a safe space that encourages reflection and dynamic interaction to address issues and dilemmas experienced by staff members in their work roles
reduce stress-related absences, and increase confidence in dealing with complex safeguarding and other dilemmas
ensure organisational and staff accountability and development, thereby promoting reflective, creative, ethical and safe practice
ensure staff are clear about their roles and responsibilities, and that their practice is consistent with their setting's values, policies, procedures and quality standards.
monitor progress in relation to appraisal objectives
identify and review personal development needs and activities for staff that relate to their roles and the needs of the setting
model a preferred way of working, which can be transferred to other working relationships
ensure that children are safeguarded effectively.
For more evidence concerning the need for Effective Supervision, sign up to this site:
https://www.rip.org.uk/
---
8th November 2016
What all professionals need to know about 'Grooming'
As a Safeguarding trainer I find that one of the most difficult things for people to grasp is the concept of 'grooming'. Broadly speaking, the process of grooming entails building an emotional connection with a child to gain their trust in order to sexually abuse them. This means the abuser is ensured continued access to children as many don't understand that they have been groomed or that what has happened is abuse. Grooming can sometimes take years, and can take place online, in person and by abusers of either gender and of any age.
But sexual abusers do not just abuse their victims. Sexual abusers can also groom adults to ensure that their activities are not recognised for what they are.
In a recent TV programme, 'Savile', Louis Theroux revisited after fourteen years the subject of his earlier documentary – Jimmy Savile – with a new awareness that he had been in fact a prolific pedophile. Theroux was seen wrestling with the accusation by a victim that he had also been groomed in failing to recognise Savile's menacing behaviour and comments at the time.
In 2011, Nigel Leat, a primary school teacher from Weston-Super-Mare was convicted of sexually abusing a number of children in his class over a period of 15 years, despite there being over thirty written complaints about his behaviour. A Serious Case Review concluded that 'Much of the behaviour exhibited by the teacher was typical of grooming activities pursued by adults intent on sexually abusing children. The failure of school managers to take action in response to the concerns raised was compounded by the failure of anyone in the school to recognise that the teacher's behaviour might have constituted grooming for sexual abuse.'
Jonathan Thomson-Glover, a House Master at Clifton College, was convicted of making, taking and possessing indecent images of children in his care. An internal report published in August 2016 concluded that: 'throughout X's career he displayed behaviour that could have indicated he was grooming groups of boys but, with the exception of the school's education psychologist, no one recognised favouritism and the invitations for selected boys to go on trips as potential signs of grooming.'
People who wish to abuse children can sometimes seek to work in professions where they have continued access to them. It is therefore absolutely vital that all professionals who work with children need to be able to recognise the signs of grooming in colleagues. These include:
Paying an excessive amount of attention to a child or groups of children, providing presents, money or having favourites
Seeking out vulnerable children, e.g. disabled children
Trying to spend time alone with a particular child or group of children on a regular basis
Making inappropriate sexual comments
Sharing inappropriate images
Being vague about where they have worked or when they have been employed
Encouraging secretiveness
Any concerns should be reported immediately to the Designated Safeguarding Lead of the setting, who should report all concerns to the Local Authority Designated Officer (in Bristol the DO is Nicola Laird, 0117 903 7795 or 07795 091020) – but anyone can make a referral directly to the DO.
---
12th October 2016
Is it illegal to hit or smack a child?
Last week I facilitated a great discussion on smacking which reminded me of how much confusion exists on this subject.
Currently the law in England and Wales stipulates that it is not illegal for a parent (or any person the parent has given their consent to discipline) to hit their child – as long as the action can be judged to be 'reasonable chastisement'. The subjective term "reasonable", however, has never been strictly defined, and this is where the confusion begins. Section 58 of The Children's Act of 2004 sought to clarify the laws surrounding smacking, making it legal or 'reasonable punishment' as long as it does not cause visible bruises, grazes, scratches, swelling or cuts, or as long as the child is not hit with an implement such as a cane or a belt. So, whether a hit or smack amounts to reasonable punishment or not will depend on the circumstances of each case – taking into consideration factors like the age of the child and the nature of the smack.
As a Safeguarding trainer, I have become aware that there is widespread support for smacking. In 2006, in an anonymous survey for ITV's programme 'I Smack and I'm Proud', 90% of the respondents said they believed in smacking, and 73% said that they believed that any ban would cause a sharp deterioration in children's behaviour. Seven out of ten parents said they themselves use corporal punishment – but really worryingly, the youngest child parents admitted to hitting was 11 months old! And only 43% of those taking part in the survey were aware that if a child is hit hard enough to leave a mark, then the parent could face up to five years in prison. (Source: Guardian Wednesday 20 September 2006)
Of course, no staff or volunteer working in registered settings (which includes schools, colleges and childminders) are allowed to hit or smack children to impose discipline – or what might be termed 'corporal punishment' in this context. Corporal punishment was made illegal in UK state-run schools in 1986 and banned in private schools in England and Wales in 1998.
A member of staff can also use reasonable physical force to break up a fight between pupils or to stop pupils endangering themselves, other pupils or school property or to prevent a pupil from committing a criminal offence. Teachers also have the right to search children on school premises for anything banned by the school.
Recently, concerns have been raised that many children learning in non-registered settings are not protected by any legislation.
Interestingly, Scotland operates some smacking bans, and strict definitions of "reasonable" punishments. Northern Ireland and Wales are also seeking a full and outright ban on smacking children. The NSPCC, other children's charities and all the UK Children's Commissioners have strongly advocated for a total ban on smacking for a number of years. As a safeguarding trainer, I would also strongly argue that hitting or smacking violates the rights of children, and advocate enforcing discipline through the many other creative and innovative behavioural approaches open to professionals.
---
27th September 2016
Should reporting abuse be made mandatory?
Current statutory guidance defines abuse as: 'a form of maltreatment of a child. Somebody may abuse or neglect a child by inflicting harm, or by failing to act to prevent harm.' [my emphasis] – Working Together to Safeguard Children 2015.
By this definition then, abusers are not just people who abuse children. Abusers also include those adults who are aware of the abuse, and who fail to stop it.
It has always been the moral and professional responsibility of adults who work with children to report abuse. But for a number of years, child protection organisations like the NSPCC have been campaigning for mandatory reporting to make it our legal responsibility, with legal sanctions in place if we fail in these responsibilities. The NSPCC have pointed out cases where people in leadership positions have taken ineffective action, failed to disclose allegations and/or allowed professionals to continue their activities and/or to move on to other institutions unchecked. Recent examples include:
The Jimmy Savile scandal, where it has now emerged that he committed offences in a broad range of settings. A significant number of offences were committed at institutions including Duncroft School, Broadmoor Hospital and Stoke Mandeville Hospital. Savile's regular visits to these institutions allowed him to identify potential victims whom he went on to abuse.
Allegations of sex abuse at Chetham's and the Royal Northern College of Music, both in Manchester. The bulk of the offences are alleged to have taken place between 1970 and 1990, although incidents are alleged to have happened as late as 2010. The Greater Manchester Police investigation has been broadened to investigate incidents at other specialist music schools in the UK.
Members of staff at more than 130 independent schools have been implicated in allegations of child abuse, with a significant surge in criminal prosecutions since 2012. There are approximately 300 institutions where inquiries are being made regarding allegations of abuse.
As a result of these recent concerns, in July 2016 the government launched a consultation: 'Reporting and acting on child abuse and neglect'. This consultation outlines options for reform of the child protection system in England, specifically in relation to mandatory reporting and acting on child abuse and neglect. There are two proposals:
a mandatory reporting duty, which would require certain practitioners or organisations to report child abuse or neglect if they knew or had reasonable cause to suspect it was taking place; or
a duty to act, which would require certain practitioners or organisations to take appropriate action (which could include reporting) in relation to child abuse or neglect if they knew or had reasonable cause to suspect it was taking place.
A breach of either could result in criminal sanctions at both individual and organisational levels and involve fines, or possible imprisonment for individual practitioners.
Click here to respond to the survey.
---
14th September 2016
What is sexting?
'Sexting' is the exchange of self-generated sexually explicit images, through mobile picture messages or webcams over the internet. Young people may also call it:
cybersex
sending a nudie, picture or selfie
trading nudes
dirtie
pic for pic.
There are many reasons why a young person may want to send a naked or semi-naked picture, video or message to someone else. These reasons include:
joining in because they think that 'everyone is doing it'
boosting their self-esteem
flirting with others and testing their sexual identity
exploring their sexual feelings
to get attention and connect with new people on social media
they may find it difficult to say no if somebody asks them for an explicit image, especially if the person asking is persistent
Sexting is often seen as flirting by children and young people who feel that it's a part of normal life, but in fact it is a crime. The law in the UK currently states that the creating or sharing of explicit images of a child is illegal, even if the person doing it is a child.
I am hearing increasingly from settings that dealing with forms of cyber bullying, including sexting, is taking up an increasing proportion of professionals' workload around safeguarding. In particular some professionals have struggled to balance the welfare considerations of sexting with their legal responsibilities, and these issues have been highlighted in national cases which have made the headlines.
As of January 2016, if a young person is found creating or sharing images, the police can choose to record that a crime has been committed but that taking formal action isn't in the public interest. In addition crimes recorded this way are unlikely to appear on future records or checks, unless the young person has been involved in other similar activities which may indicate that they're a risk.
And over the summer the UK Council for Child Internet Safety (UKCCIS) published 'Sexting in schools and colleges, responding to incidents and safeguarding young people' 2016. Over 200 organisations have supported its creation, including the Home Office, DfE, police, children's charities, UK Safer Internet Centre, CEOP and teachers' groups. The guidance is non-statutory, but should be read alongside 'Keeping children safe in education' 2016.
The new guidance crucially takes a safeguarding focus, rather than a simple criminal response, and allows schools to sometimes deal with incidents without involving the police. The guidance says that professionals should:
be guided by the 'principle of proportionality' and take a risk based approach
use the phrase "youth-produced sexual imagery" rather than sexting
understand that police involvement may not always be necessary and that images can be deleted and incident managed in school.
When assessing risk, professionals should ask the following questions:
Has it been shared with the knowledge of the young person?
Are adults involved in the sharing?
Was there pressure to make the image?
What is the impact on those involved?
Does the child or children have additional vulnerabilities?
Has the child taken part in producing sexual imagery before?
---
19th July 2016
Why do we need to learn about Disguised Compliance?
This week I was lucky enough to attend the Bristol Safeguarding Children Board Annual Conference. One of the guest speakers was Joanna Nicolas, a Child Protection Consultant & Trainer, who spoke about 'Disguised Compliance' and why it is an important concept for everyone who works with children to understand.
Disguised Compliance is defined by the NSPCC as "a parent or carer giving the appearance of co-operating with child welfare agencies to avoid raising suspicions, to allay professional concerns and ultimately to diffuse professional intervention." Simply put, parents who display disguised compliance will distract, manipulate, lie to and groom other professionals to believe the falsehood that they are not abusing their children. As a result, children are not effectively safeguarded and the abuse continues.
Disguised Compliance has been a common theme in many high profile child abuse cases.
Victoria Climbie's social worker described being "set up" during home visits. Victoria was seen sat playing quietly with dolls while her abusive aunt complained about her housing needs – the reality was that her body had been so damaged that she could not stand properly and she was terrified to speak.
Baby Abigail was admitted to hospital aged 3 unable to walk and with severe ulcerated nappy rash, anaemia, malnutrition, head lice infestation and weak bones. Afterwards an older sibling said that her parents would 'lie all the time'. The mother would regularly throw lumps of nappy cream away, so professionals thought she was using it.
In Bristol, Child T died from physical abuse from his father while his mother, a victim herself of domestic abuse, lied for five years that the father was not resident. The Serious Case Review stated: 'We will never know how much of that time Mr Z was also living in the home, however Ms A says he was there most of the time. She described being unable to keep him away.'
Lord Laming, author of the Victoria Climbie Inquiry, said that professionals could be over-optimistic when dealing with parents and carers, and that when safeguarding children we needed to exercise "respectful uncertainty".
All professionals need to be aware of the signs and symptoms of Disguised Compliance. These may include:
Seeing no evidence of significant change in the child's situation despite significant input from professionals.
Parents agreeing with professionals regarding required changes but putting in little effort.
Parents aligning themselves with certain professionals above others (possible grooming).
A child's report of matters conflicting with that of the parents.
If you suspect Disguised Compliance, take stock, speak to the child if possible and carefully weigh all the evidence, using the support of your Supervisor or Designated Safeguarding Lead. The key course of action is to speak with other professionals about your concerns and to always put the child's welfare at the centre of your enquiry.
---
28th June 2016
New Keeping Children Safe in Education 2016
The Department for Education has published an updated version of the statutory guidance 'Keeping children safe in education' (2016), which revises and replaces the 2015 guidance. The guidance is currently in draft form but it will come into force on 5 September 2016. It sets out what registered nurseries, schools and colleges in England must do to safeguard and promote the welfare of children and young people under the age of 18.
Some highlights of the changes are as follows:
Stresses the importance of acting in the best interests of the child, professionals working together to get a full picture of the child's needs and the key role that schools in particular play in safeguarding children
States that all staff must be made aware of the early help process, and the need for constant review and communication with children's social care if the child's welfare is not improving with early intervention
New paragraph stating that in addition to all staff being required to attend safeguarding and child protection training it is recommended that staff should receive updates via email, staff meetings or e-bulletins to keep their skills and knowledge up to date. This is recommended at least annually
States the mandatory reporting of female genital mutilation (FGM) by teachers
States that staff should seek alternative sources of help outside the setting if they feel they cannot report a concern within their organisation (Whistleblowing)
Talks explicitly of the dangers of on peer on peer abuse, child sexual exploitation, online abuse, sexting, gender based bullying
Emphasises the importance of policies and procedures in ensuring that action is taken in a timely manner if concerns arise, and in involving staff with expertise in the writing of them
Gives clarity that although safeguarding duties can be shared with other staff members, the lead responsibility for all safeguarding matters must remain with the designated safeguarding lead (DSL)
The DSL should be a senior member of staff from the leadership team
Schools can decide whether or not they appoint more than one deputy to the DSL. They must be trained up to the same standard
States that data protection fears should not be a barrier to information sharing as the safety of the child should be of utmost importance.
For further details and to read the new guidance follow this link and click on the 2016 document:
https://www.gov.uk/government/publications/keeping-children-safe-in-education–2#history
---
7th June 2016
What are fundamental British values?
Last week I delivered Prevent awareness training and facilitated an interesting discussion on fundamental British values.
Since 2015 all schools and registered childcare providers must have "due regard to the need to prevent people from being drawn into terrorism". The Prevent Duty Guidance (2015) says that they should also: 'build resilience by promoting fundamental British values'.
But what are these fundamental British values? And how can schools and other settings promote them?
The answer to the first question may be not immediately obvious. The guidance says fundamental British values are:
'democracy, the rule of law, individual liberty and mutual respect and tolerance of different faiths and beliefs.'
Unfortunately some websites and no doubt some settings are getting all this badly wrong. You don't have to look far to come across fun ideas like eating roast beef or fish and chips, celebrating Guy Fawkes or St George's Day, or dressing up like Kings and Queens or Winston Churchill etc. These ideas are missing the point rather badly. Promoting fundamental British values is not about replacing extremist ideas with nationalism or naïve patriotism.
Better suggestions would be:
to debate the advantages and disadvantages of democracy, and how democracy and the law works in Britain and in contrast to other forms of government in other countries;
to ensure that all pupils within the school have a voice that is listened to;
to promote democratic processes such as a school council whose members are voted for by the pupils;
to use opportunities such as general or local elections to hold mock elections;
to use teaching resources from a wide variety of sources to help pupils understand a range of faiths.
It will be useful to have this discussion in your setting – what could you do to promote values of democracy, the rule of law, individual liberty and mutual respect and tolerance of different faiths and beliefs?
---
3rd May 2016
Why are we now talking about 'Breast Ironing'?
Breast Ironing is the process whereby young girls' breasts are ironed, massaged and/or pounded down through the use of hard or heated objects in order for the breasts to disappear, or delay their development.
The United Nations states that Breast Ironing affects around 3.8 million young women worldwide. It is widely spread in West African countries such as Cameroon, Guinea-Bissau, Chad, Togo, Benin, and Guinea-Conakry, but also occurs in some regions of East and Central Africa. In Cameroon, it is thought that up to 50% of girls as young as 10 years old undergo terribly painful breast ironing on a daily basis.
It is commonly performed by family members, most of the time by the mother. The abusers can think they are doing something good, by protecting the girl against sexual harassment and delaying the effects of puberty so that she can continue her education, rather than early forced marriage.
But in reality girls experiencing Breast Ironing are exposed to significant health risks including cancer, abscesses, infection, tissue damage and even the complete disappearance of one or both breasts. The practice is also extremely psychologically damaging.
While there is no UK law specifically outlawing Breast Ironing, it is a form of physical abuse. If professionals are concerned a child may be at risk or suffering significant harm they must refer to their local safeguarding referral agency. Like FGM, the practice is happening in the UK, but due to the hidden nature of the act it is difficult to detect.
For more information check out: http://www.cawogido.co.uk/breastironing.php
When recognising Breast Ironing professionals need to be aware of the following:
Young pubescent girls usually aged between 9 – 15 years old from practising communities are most at risk of breast ironing.
The girl generally believes that the practice is being carried out for her own good and she will often remain silent. Often the father remains completely unaware.
The girl may exhibit unusual behaviour after an absence from school or college including depression, anxiety, aggression, being withdrawn, reluctance in undergoing normal medical examinations, fear of changing for physical activities due to scars showing or bandages being visible.
Some girls may ask for help, but may not be explicit about the problem due to embarrassment or fear.
---
19th April 2016
Do you know how to manage a direct disclosure of abuse? 
I watched the moving BBC documentary 'Abused' last week. It highlighted for me the importance of correctly managing children's direct disclosure of abuse. The programme followed a group of survivors of sexual abuse, and all had struggled painfully when talking about what had happened to them. Some had kept secrets for years. Some brave enough to disclose had not been taken seriously, and had been tragically and unforgivably sidelined.
Adults who make up the children's workforce necessarily work towards forming positive and trusting relationships with the children in their care. At times this may mean that children feel they can confide about aspects of their life that may cause concern for their general welfare.
The disclosure may be that they are feeling unsafe or have been abused – or it may be that they feel vulnerable in other ways. Perhaps they tell you that they are being bullied – or experiencing homelessness – or racism – or perhaps they are worried that they are pregnant or ill. Effective safeguarding means that any welfare concern needs to be taken seriously and everyone has a role to play in this. Any disclosure concerning the welfare of a child should be recorded and reported to the Designated Safeguarding Lead of the setting.
If the disclosure involves abuse, the matter is extremely serious and professionals must take the following action:
Stay calm.
Listen to what the child is actually saying.
Reassure them that they have done the right thing by telling you.
Do not promise the child that this can be kept secret; explain that you must tell other people to keep them safe.
Know that children rarely lie about abuse and indicate that that you are taking the matter extremely seriously.
Reassure the child that the people who will be informed will be sensitive to their needs and will be looking to help protect them. Inform them that it will have to be passed on to the appropriate agencies.
Do not interrogate the child, or push for more information. Ensure that any questions asked are open, not leading closed questions.
Do not ask them to repeat what they have told you to another member of staff.
Make a note of any conversations with the child, trying to make these as detailed as possible, including when and where the conversations took place.
Report the disclosure to the Designated Safeguarding Lead of their setting as soon as possible – always on the same day. The person to whom the disclosure was made should ensure that the child is informed about what will happen next, so they can be reassured about what to expect.
---
22nd March 2016
Supporting establishments to comply with Radicalisation and Extremism responsibilities
From 1 July 2015 all schools, registered early years childcare providers and registered later years childcare providers are subject to a Duty under section 26 of the Counter-Terrorism and Security Act 2015, to have "due regard to the need to prevent people from being drawn into terrorism".
Since then, the children's workforce has been racing to find out more about their Prevent Duties and the exact implications of the new legislation for their setting.
Mandy Parry Training is now offering a new course entitled: 'Supporting Establishments to comply with Radicalisation and Extremism responsibilities' which is designed to supplement and extend other training available in Bristol on radicalisation. The day allows for plenty of discussion, reflection and consideration for how the new Prevent Duty will practically impact on the work of each individual setting. Those who have already attended WRAP or other Prevent training will find it extremely useful.
The aim of the training is to help schools protect children and young people from radicalisation and extremism and support all staff to comply with the new duties imposed. After the course, delegates will have knowledge in the following areas:
Understanding of the duties placed on establishment by the Counter Terrorism and Security Act 2015
Development of knowledge of extremism in the context of current UK threats
Identification of vulnerable and 'at risk' students
How 'Prevent' strategies can be integrated within pre-existing safeguarding approaches
How to write or revise relevant establishment policies
How to demonstrate that the establishment is safe from the threat of extremism
How to meet the new Ofsted Inspection requirements (including risk assessment)
Preparation of an Action Plan to implement in your establishment
Reporting concerns
This training is aimed at Headteachers, Designated Safeguarding Leads, Safeguarding Governors and other Business and Management staff within schools and other settings with children and young people.
It is being hosted in Bristol by Delegated Services, working in partnership with Mandy Parry Training.
The date of the training is Thursday 19 May 2016.
It costs £115 + VAT for Mandy Parry Training customers (this will apply if you have ever booked MPT for in-house training or consultancy), or £127.50 + VAT for non-customers.
To apply, email: shelley.brown@delegatedservices.org
---
8th March 2016
Have you come across this new way of recording safeguarding concerns?
Good, up to date record keeping of concerns and action taken is essential to help identify causes for concern at an early stage. Often it is only when a number of seemingly minor issues are taken as a whole that any general welfare or child protection concern becomes clear. Effective record keeping helps settings monitor and manage their safeguarding practices and in any inspection it is vital evidence of robust and effective safeguarding policy and practice.
As a trainer, I am often hearing about new innovations when it comes to safeguarding. Recently I have been hearing from a number of enthusiastic people about a new way of recording and reporting concerns using a new software system called 'MyConcern'. It was developed a few years ago by software engineers in partnership with the Police and other safeguarding consultants in Dorset and users are apparently finding it extremely useful.
The idea is this: the Designated Safeguarding Lead (DSL) has overall control of the software system and can receive an electronic update instantly at any time from any enabled device (laptop, mobile) which any staff member holds at any time. The DSL therefore holds all records confidentially online in one place, and it is easy and secure to share records with other staff, partners and referral organisations. The software was designed primarily for educational settings and is especially useful where staff work with children in a variety of locations.
For more information, follow this link:
More about effective safeguarding record keeping
However they are brought to the attention of DSL, all child safeguarding records should be:
clear, straightforward and avoid jargon
concise
accurate
contemporaneous
contextualised
named in print and signed
dated
presented chronologically
differentiate between facts, opinion, judgments and hypothesis
written with a mind that the subject of a record does have the right in law to request access to them at any stage.
Any staff member or volunteer who has any kind of concern relating to the abuse of children must make an accurate record as soon as possible. The record should explain:
What was seen: when and where (this includes a site map indicating the position of any bruises or marks seen on the child/young person, trying to indicate size, colour and shape)
What was said: when, where and who to
A note of any other people involved e.g as witnesses
What was said to the staff member: when, where and who by
What the staff member thought and why they thought it
What the staff member did; and
Any other relevant information
All child welfare records should be kept in one central and secure location separately from general information kept about the child. A discreet note should be made in the child's general information file that there is confidential safeguarding information kept on file about them.
---
23rd February 2016
What exactly is Child Sexual Exploitation?
Child Sexual Exploitation (CSE) is a devastating form of child abuse, highlighted in recent years by several headline cases in Rotherham, Telford, Oldham, Derby, Oxford and in Bristol.
But up to now, different agencies have been using many different definitions of CSE. The Government has launched a consultation this month seeking views on a new definition of child sexual exploitation. It says that the number of definitions of child sexual exploitation in use has led to some confusion and inconsistencies in risk assessment and in data collection. The new proposed definition is intended to remove any ambiguity:
'Child sexual exploitation is a form of child abuse. It occurs where anyone under the age of 18 is persuaded, coerced or forced into sexual activity in exchange for, amongst other things, money, drugs/alcohol, gifts, affection or status. Consent is irrelevant, even where a child may believe they are voluntarily engaging in sexual activity with the person who is exploiting them. Child sexual exploitation does not always involve physical contact and may occur online.'
The revised definition will be brought into effect on 1 April 2016 and included within the statutory guidance, 'Working Together to Safeguard Children'.
As a safeguarding and sexual health trainer, I believe that CSE can be effectively challenged by offering young people high quality relationships and sex education. Professionals can all have a role in helping young people to fully understand what real sexual consent is. Simply put, sexual consent means a person willingly agrees to have sex or engage in a sexual activity – and they are free and able to make their own decision. Sex without is consent is therefore rape or sexual assault. Young people need to know that the law also recognises that a person might not have sufficient capacity to give consent because of their age or because of a mental disorder. The amount someone has had to drink or the drugs they have taken may also affect their ability to consent. If someone repeatedly asks for consent and they are refused, this can count as sexual harassment.
Young people also need to know that the age of consent to any form of sexual activity is still 16 for both men and women (although the police are not likely to prosecute sexual activity of 13-15 year olds that are deemed consensual). There are specific laws in place to protect children under the age of 13 who cannot legally give their consent to any kind of sexual activity.
Very importantly, a person under the age of 18 cannot consent to sex if it is with a person who has a duty of care or is in a position of authority or trust, such as a teacher, carer or support worker.
Nothing is more important than safeguarding children. By fully understanding consent and abuse, we can raise awareness and make sure that we can provide the best protection for children and young people.
---
2nd February 2016
Are you referring children for Early Help?
Early Help is an essential aspect of effective Safeguarding. It has been defined as: 'providing support as soon as a problem emerges, at any point in a child's life, from the foundation years through to the teenage years. Early Help can also prevent further problems arising, for example, if it is provided as part of a support plan where a child has returned home to their family from care'. Working Together to Safeguard Children 2015.
Children who are experiencing problems may not always reach Child Protection thresholds but still require vital support. It is important that children in need of this support receive it in a timely fashion to prevent escalation into abuse and to lessen the risk of harm or impairment.
Staff must record signs and symptoms and disclosures relating to children in need of Early Help, report to their Designated Safeguarding Lead, and discuss options with the family. Options could include: further discussion with parents/carers and devising and providing a plan for Early Help within the setting; and/or organising extra support with other professionals outside the setting.
In Bristol, if staff are clear that they have done all they can, but feel that problems are not being resolved and the child and parent/carers still need more help than they can provide, they can get the parents'/carers' consent to contact the First Response Team to request multi-agency, targeted support from the local Early Help Team. The First Response Team will ask some simple questions to complete a Request for Help form.
Alternatively, when making a request for Early Help, it is possible for staff to fill in an online Request for Help form.
(Note: in contrast, Child Protection concerns must ALWAYS be phoned through to First Response on the same day).
If the child is deemed in need of Early Help by First Response, the Early Help Team in the area will oversee and coordinate a Single Assessment Framework (SAF) for the family which can give them access to extra services. Settings may be asked to fill in a SAF on behalf of the Early Help Team – and there is training available to support staff to do this.
---
15th January 2016
What is a Safeguarding Audit?
A Safeguarding Audit is a tool to help settings check that they are meeting statutory safeguarding duties. It helps to identify any gaps or weaknesses that need addressing.
A Safeguarding Audit can:
ensure that you have clear policies, strategies and procedures in place to ensure safeguarding and welfare of children.
ensure that your setting has clear evidence for Ofsted.
be the focus of your next annual safeguarding report.
A Safeguarding Audit should:
observe and experience safeguarding systems in place.
assess the quality of the safeguarding policies in place (including specific information on Safer Recruitment, Managing Allegations, Escalation, Whistleblowing and other relevant policies).
assess the skills and confidence of the staff members and management (including those who are the Designated Safeguarding Leads).
assess the quality of record keeping and data management including the Central Record, child safeguarding files and all other relevant information.
It's extremely useful if Safeguarding Audits are carried out by an external body who can apply some objectivity to the process. The audits can be formally recorded in committee or management meeting minutes so that they can evidence them as good practice.
---
1st December 2015
Spotting the Signs of Sexual Abuse
Last week the Office for the Children's Commissioner published an important report on sexual abuse following a national inquiry using data contributed from every police force in England.
The report suggests:
As few as one in eight victims of child sexual abuse come to the attention of the authorities.
As many as 450,000 children had been sexually abused in the two years to March 2014 – far exceeding the 50,000 cases recorded by the police and local authorities.
Survivors of sexual abuse told the inquiry they did not know how to describe their experiences, that they did not know whether their experience constituted a healthy relationship or not, and that they were desperate for people to ask after their welfare.
It was therefore vital that professionals working with children were empowered to spot the signs and symptoms of sexual abuse to take action, rather than relying on children to come forward and reveal that they had been abused.
Signs and symptoms of sexual abuse can include:
Bruises, scratches, burns or bites on body, particularly in the anal or genital regions
Sexual knowledge inappropriate to the child's age
Frequent or public masturbation
Withdrawal
Attempts to involve other children in sexual activities
Aggression
Read the full report from the Office for the Children's Commissioner.
---
24th November 2015
How can you ensure your setting is using social media responsibly?
I recently successfully delivered training to a school that wanted to learn more about the importance of using the internet responsibly in regard to professional reputation and safeguarding in general. The workshop was delivered in a twilight session to the entire school community, including all staff, volunteers and governors.
The risks are huge when staff don't use social media responsibly. At worst:
Children are not safeguarded
We leave ourselves vulnerable as professionals
We harm relationships with our families and the community as a whole
Changes in online technology increasingly mean that problems can quickly escalate and leave a permanent mark.
Staff should guard their professional reputation by posting information with care and sensitivity when using social media. They should check their privacy settings and always ensure that children and families are not on their 'friends' or contacts list. Likewise the professional integrity of other colleagues should be respected online. It is always a good idea for staff to check their digital footprint by putting in a search for their name – and their images – and seeing what comes up. Any incidence of cyber bullying or Hate Crime should be reported immediately.
The vast majority of adults who work with children do act professionally. Tensions and misunderstandings are inevitable and therefore our work is to aim to reduce risk, not to eliminate it altogether. It is impossible to create a checklist of every situation – and so every individual must be able to make their own professional judgements. It is everyone's responsibility to keep up to date with new guidance and risks and to develop the values, information and skills to judge carefully.
More information on online safety and professional responsibilities can be found on childnet.com
---
17th November 2015
What Ofsted will want to know about your Safeguarding
An important part of an Ofsted inspection will be an inspection of a setting's safeguarding arrangements.
Inspectors should look for evidence of the following:
the extent to which leaders, governors and managers create a positive culture and ethos where safeguarding is an important part of everyday life in the setting, backed up by training at every level
the application and effectiveness of safeguarding policies and safe recruitment and vetting processes
the quality of safeguarding practice, including evidence that staff are aware of the signs that children or learners may be at risk of harm either within the setting or in the family or wider community outside the setting
the timeliness of response to any safeguarding concerns that are raised
the quality of work to support multi-agency plans around the child or learner.
For more information, see: Inspecting safeguarding in early years, education and skills settings from September 2015
---
10th November 2015
Does your workplace have an up-to-date Safeguarding Code of Conduct?
New non-statutory guidance has recently been published which sets out clearly a Code of Conduct for those who work with children: 'Guidance for safer working practice for those working with children and young people in education settings' (October 2015).
The original guidance was developed by a DfES network in 2005, with revisions in 2009. This 2015 update has been produced in consultation with representatives from local authorities, CAPE and a number of NASS schools. All settings are advised to be aware of the guidance before developing their own code of conduct policy specific to their setting.
A workplace code of conduct establishes acceptable standards of behaviour for all employees The code of conduct should be shared during induction with new staff members and should be referred to if there is a need to address any cause for concern. When it comes to the matter of safeguarding, it is essential that everyone who works with children is clear about the expectations placed upon them right from the start.
A code of conduct in regard to safeguarding should answer these questions (which come up frequently during training!):
When is it appropriate to have physical contact with children?
Can we photograph our pupils?
Can we ever be alone with our children?
How should we dress?
What about infatuations?
How can we use social media safely with children and families?
When is physical intervention appropriate?
What needs to be taken into account when transporting pupils?
The answers to all these questions and many more can be found via the guidance on the Safer Recruitment Consortium website.
---
3rd November 2015
What you need to know about Safer Recruitment
Safeguarding experts have long since recognised that people who want to abuse children may seek access to them by working with them in a professional capacity. Safer Recruitment – ensuring that all staff are safe to work with children before they are actually appointed – is one of the most important things that all settings can do to ensure that they are safeguarding the children in their care.
The most up to date statutory guidance for schools and colleges, 'Keeping Children Safe in Education' 2015, states clearly that 'at least one member of every recruitment panel should be trained in safer recruitment.'
In 2014, the Department for Education invited a group of organisations (National Association of Special Schools, NSPCC, Child Protection in Education and the Lucy Faithfull Foundation (LFF)) to form the Safer Recruitment Consortium to develop a new national training programme. The Consortium has recently advised that:
All Safer Recruitment trainers should be accredited and, if new to the role, trained by the LFF.
Approved Safer Recruitment training should use the Consortium logo on the slides, workbooks, certificates; accredited trainers should be able to show you their Safer Recruitment Consortium 'approved trainer' certificate; trainers will also have signed a code of conduct which includes certain key standards (e.g. a minimum delivery time of 7 hours).
As many people as possible involved in recruiting should complete Safer Recruitment training (the LFF say that 'only one member of the panel suitably trained has never been considered best practice and doesn't ensure that all aspects of safer recruitment from advert to ongoing vigilance is embedded in the school.').
Recruitment panel members who have already had Safer Recruitment training some time ago should consider a refresher course.
Useful links:
http://www.saferrecruitmentconsortium.org/
http://www.lucyfaithfull.org.uk/home.htm
---
30 October 2015
Are You Fulfilling Your Prevent Duties?
From 1 July 2015 all schools, registered early years childcare providers and registered later years childcare providers are subject to a duty under section 26 of the Counter-Terrorism and Security Act 2015, to have "due regard to the need to prevent people from being drawn into terrorism". This duty is known as the Prevent duty.
These duties should be part of the setting's wider safeguarding policies and procedures.
Settings should be able to demonstrate that they are (amongst other things):
1. Identifying children who may be vulnerable to radicalization.
 2. Aware of what to do when vulnerable children are identified.
 3. Promoting fundamental British values and challenging extremist views.
4. Offering appropriate training and development for principals, governors, leaders and staff.
For more detailed information on the Prevent Duty read the statutory Department for Education (DfE) Guidance:
https://www.gov.uk/government/publications/prevent-duty-guidance
Useful complementary non-statutory DfE guidance can be found here:
file:///C:/Documents%20and%20Settings/HPnx6325/My%20Documents/Downloads/prevent-duty-departmental-advice-v6.pdf
---
21 September 2015
Are You Fully Prepared To Safeguard Children On Your Outings?
Outings can be wonderful opportunities for children and young people to learn and enjoy stimulating new environments – and are often the most memorable elements of the curriculum. But of course, schools and other settings must plan carefully to ensure that children are safeguarded during their time off site.
These are some key points that settings should consider when organising outings:
A clear policy on outings should be in place, which sets out procedures that outline issues such as parental permission, staff responsibilities including those of the staff member taking the leading role off site, the need for risk assessments.
Quality staff training on risk assessments, safeguarding, emergency first aid and other related policies.
The specific visit should be carefully planned, usually involving a prior visit and a full risk assessment.
In the event of an incident, your setting will have to be confident on a number of issues: •Caring for both injured and non-injured children off site
Contacting the setting and parents promptly and effectively
Managing, as a setting, both the response of parents and media in relation to an accident
Managing injury and notification of next of kin for members of staff.
---
14 July 2015
Bruising in Non-Mobile Babies – Know What To Do
All professionals need to vigilant to spot bruising in non-mobile babies. Accidental bruising in a baby who is not mobile (ie a baby who cannot crawl, pull to stand, 'cruise' around furniture, or walk) is very uncommon. The most likely cause of bruising in non-mobile babies will be abuse, or else a serious medical condition. Non-mobile babies with bruising need to be referred to outside agencies as soon as possible.
The research on this matter from the National Institute of Clinical Excellence on this matter is extremely clear. Infants under the age of one are more at risk of being killed at the hands of another person (usually the carer) than any other age group. Severe child abuse is 6 times more common in babies aged under 1 year then in older children. Non-mobile babies cannot cause injuries to themselves and therefore must be considered at significant risk of abuse. Staff should report bruising in non-mobile babies as soon as they can to the Designated Person in Charge of Safeguarding in their settings who should then follow the correct guidance.
For more information read:
Multi-Agency Guidance for Injuries in Non-Mobile Babies 2015 by Bristol Safeguarding Children's Board and South Gloucestershire Safeguarding Children's Board.
---
24 June 2015  
How Safe Are Our Children?
For the last three years, the NSPCC has published a 'state of the nation' report intended to give a robust and up-to-date overview of child protection in the UK.
This year's report, 'How Safe Are Our Children? 2015' was published last week. It makes fascinating reading for anyone concerned with safeguarding children.
The main findings are:
a steep increase in disclosures, especially in sexual abuse
the number of children in the UK's child protection systems has increased in all four nations since 2002
neglect remains the most common form of child abuse across the UK
numbers of recorded cruelty and neglect offences in England and Northern Ireland are now the highest they have been for a decade.
Given these findings, the NSPCC have said that there needs to be more support for victims, more evidence gathering in what works in combating neglect and more effective early intervention.
For more information on the NSPCC report click:
---
10 June 2015
Are You Using A Verified Safeguarding Trainer?
Local Safeguarding Children Boards (LSCB) have a duty to develop policies and procedures for training in their local area. Schools and other settings can commission their own training providers if they so wish, as long as the training meets the standards set in the LSCB procedures.
All the Safeguarding Children Boards in the South West have clear procedures in place to assure the quality of safeguarding trainers so that settings can verify that training will be of an acceptable standard.
What makes a verified safeguarding trainer?
Qualification in teaching or training
Up to date training with local safeguarding board
Accurate, up to date knowledge based on national & local guidelines
Quality training materials
Quality training delivery
Mandy Parry is  now a verified safeguarding trainer with Bristol Safeguarding Children Board!
---
3  June 2015
Are You Safeguarding Your LGBT Children And Young People?
This week Mandy Parry Training delivered a great training session to Roweford school, Wiltshire on supporting the needs of the lesbian, gay, bisexual and transgender pupils in their school. We were impressed by the committment and motivation of the staff to make a difference.
But according to Stonewall, the UK's largest campaigning organisation for LGBT rights, in general schools are failing to protect some of their most vulnerable pupils:
55 % of lesbian, gay and bisexual pupils in Britain's secondary schools experience homophobic bullying
23 % of gay young people have attempted to take their own life
56 % deliberately harm themselves
99 % of gay young people hear homophobic language
25% of gay young people – rising to over a third in faith schools – report that teachers never challenge homophobic language
In schools where teaching staff never challenge homophobic remarks, the rate of homophobic bullying is far higher than in schools where such language is always challenged (71 % compared to 43 %).
Source:  University of Cambridge for Stonewall's School Report 2012
But schools who fail to protect their pupils from discrimination and bullying could be seen as breaking the law. Schools have the duty to prevent and tackle all forms of bullying, including homophobic bullying and they cannot discriminate on grounds of sexual orientation or perceived sexual orientation against a student or teacher. The Equality Act 2010 means that schools have to be proactive in preventing homophobic bullying and make all children and young people feel included. It requires all public bodies, including schools and academies, to eradicate discrimination, advance equality and foster good relations – this means preventing and tackling homophobic bullying and language and talking about different families in school.
What can schools do?
Here are some suggestions:
Use posters and displays to communicate positive messages throughout your environments on equality and diversity for LGB and Trans people
Stonewall has a useful website with access to free resources www.stonewall.org.uk or  www.genderedintelligence.org.uk
School Code of Conduct/Equalities statement
Discuss LGBT relationships and people within the SRE curriculum
Celebrate LGBT Events – LGBT History month, IDAHOT, World Aids day, Pride events
Make referrals to supportive organisation
Support LGBT staff
Organise whole school LGBT awareness training
And if you are interested in LGBT awareness training taking place in your setting, please do contact me on 07811101740 or mandy@mandyparrytraining.co.uk – I will be pleased to help!
---
26th May 2015
Are You Listening To The Voice Of The Child When Safeguarding?
The United Nations Convention on the Rights of the Child states:
'When adults are making decisions that affect children, children have the right to say what they think should happened and have their opinion taken into account.'
(UNICEF paraphrases)
But there have been many examples in the headlines in recent years where Child Protection has gone badly wrong – and many have revealed that, when it comes to safeguarding, some professionals have really failed to hear what children have to say and children have not been protected as a result.
Only too often, when things go wrong, evidence has shown that:
children was not involved in proceedings, and were not asked their views and feelings about decisions that affected them;
agencies were not listening to those adults who spoke on behalf of children;
professionals had allowed parents and carers to prevent them access to the child;
practitioners put their focus too much on parents and not the safety of the child;
findings were not interpreted correctly and children were therefore not protected.
(The Voice of the Child: learning lessons from serious case reviews Ofsted 2011)
As a result, I have decided to offer training which will address this concern:
Title: Listening to the Voice of the Child in Safeguarding
Aim: To develop participants' ability to effectively listen to the voice of the child in their safeguarding practice.
Outcomes:
appreciate the value of listening to the voice of the child in safeguarding
learn the relevant rights and legal framework and guidance understand why and when professionals fail to listen and implications of this
explore barriers to hearing and how these can be overcome
practice useful skills to that will support them to listen effectively
ensure that the setting develops policies, procedures and practices that ensure that it truly engaging in child centred practice.
If you are interested in this new course, please do contact me on 07811101740 or mandy@mandyparrytraining.co.uk – I will be pleased to help!
---
15th May 2015
Are You Aware That The National Safeguarding Guidance Has Recently Changed?
On the 26th March 2015, the government published 'Working Together to Safeguard Children 2015′. This is a revised version of the 2013 guidance. It is the key document that sets outs what local authorities and everyone else should do to safeguard children.
In the light of recent concerns, the new guidance says that there must be locally commissioned services for children who have been or may be sexually exploited, subject to Female Genital Mutilation (FGM) and radicalized. In addition, there is a clear stipulation for all organisations to have clear whistleblowing procedures to guard against institutional complacency in regard to this and other abuse.
LADOs (Local Authority Designated Officers), who investigate concerns around professionals working with children, should now be referred to as 'Designated Officers' and social work trained (unless they are already post holders).
Other changes can be found in the new document found here:
https://www.gov.uk/government/uploads/system/uploads/attachment_data/file/419595/Working_Together_to_Safeguard_Children.pdf
All settings should dispose of the previous guidance, update references to the old guidance their safeguarding policy and print off the new guidance for easy reference.
---
3rd April 2015
What Are The Most Important Features Of An Effective Child Protection Policy?
After delivering training on developing Child Protection (CP) policies for some time, it began to dawn on me what the most effective CP policy really consisted of. It wasn't one that could be downloaded easily from the Internet from another organisation; it wasn't one that contained the most references from statutory guidance; it wasn't one that was the longest or even had the fewest spelling mistakes.
No, the best CP policy had two essential qualities: it was directly relevant to the particular setting it supported, and it was completely up to date.
If you feel that your CP policy is looking a bit dated and you feel you need an overhaul, consider booking an inhouse CP training day with Mandy Parry Training. The training could give all the staff in your setting the opportunity to take stock of current CP policies and procedures and the impetus to make necessary changes.