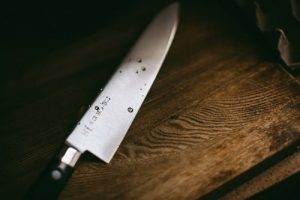 '…young people were asked about their exposure to gangs and knife crime. A quarter of young people say that they know someone who has carried a knife (26%, 1790 of 6856) or who is in a gang (23%, 1583 of 6798).' Youth Voice Survey 2018
A couple of weeks ago, I was spending most of my time carrying out a safeguarding audit of an organisation that was carrying out innovative and extremely effective work with young people who were in danger of social exclusion. It was inspiring and moving to meet so many committed and skilful professionals working in a range of projects and to see the response of the children to their work. It put at the forefront of my mind the huge challenges every professional faces right now in safeguarding the children we work with. One such challenge is tackling the serious problem of knife crime.
In February 2019, six people were arrested after a gang entered a sixth-form college in Lancashire armed with knives, injuring a 17-year-old boy, who suffered minor injuries. The men ran off when the police arrived.
During 7 days in March 2019, police in England and Wales seized more than 10,000 knives during 'Operation Sceptre'. Test purchases were also carried out at 689 shops, with 130 (19%) failing and selling a knife to someone under 18.
Also in March 2019, the Guardian revealed that over the last four years, at least 1,745 weapons had been found in UK primary and secondary schools – and during that time the number had more than doubled.
By 17 May 2019, one hundred people have been fatally stabbed in the UK. Those killed in 2019 range in age from 14-year-old Jaden Moodie, who was stabbed in east London in January – to 80-year-old Barbara Heywood, who was attacked at her home in Bolton in March.
Victims are most likely to be young and Black. They include Ayub Hassan, 17, who was stabbed three times in the chest in West Kensington on 7 March. The teenage was a student at Hammersmith College and had dreamed of becoming a barrister. A 15-year-old boy was charged with murder.
Girls are most likely to be stabbed by those they know well. They include Year 12 Hardenhuish School pupil Ellie Gould who died after being stabbed on 3 May 2019 in Calne. A 17-year-old boy has appeared in court charged with her murder and is due to stand trial in October in Bristol.
In response to widespread concerns, Ofsted carried out a research project on knife crime in education – 29 different schools, colleges and pupil referral units (PRUs) in London were consulted so it was a major undertaking. The results were published a few weeks ago. Although the research was based in London, it strongly recommended that its conclusions had implications for the rest of the country. The report found that overall it was extremely rare that children were caught up in serious violence on school grounds. However, it is also clear that schools' valuable role in local partnerships is not being fully realised. Schools felt that they did not have the ability to counter the complex societal problems behind the rise in knife crime. These broad needs should be addressed by a range of partners including the police, local authorities and policy makers.
An important point made clear by the report was the inconsistency of ways in which schools were tackling knife crime. Schools had very different ways of dealing with knives and teaching children about the risks of carrying a knife – and they urgently needed guidance about what actually worked. Some schools shied away from using searches or specific education programmes because they are worried about sending the "wrong message" to parents, despite evidence that these methods can effectively deter children from bringing weapons into school. Inconsistent approaches to police involvement had not helped either and there was an overall lack of clarity as to when it was necessary. This meant that some children were more likely to be criminalised for their actions than others, depending on which school they go to, or even within the same school. It was felt that too often decisions were made on the basis of children's background, rather than the risk they pose to others. The government recently updated guidance given to schools regarding these issues 'Searching, screening and confiscation: Advice for headteachers, school staff and governing bodies January 2018'. The guidance clearly states:
'School staff can search a pupil for any item if the pupil agrees…Headteachers and staff authorised by them have a statutory power to search pupils or their possessions, without consent, where they have reasonable grounds for suspecting that the pupil may have a prohibited item. Prohibited items are:
knives or weapons
alcohol
illegal drugs
stolen items
tobacco and cigarette papers
fireworks
pornographic images
any article that the member of staff reasonably suspects has been, or is likely to be, used:
to commit an offence, or
to cause personal injury to, or damage to the property of, any person (including the pupil).'
The Ofsted study also found that clarity was needed by schools and local authorities on 'managed moves' of children at risk of exclusion. As an alternative to exclusion, pupils who carry knives are sometimes moved to other mainstream schools or PRUs. But no single body has a clear picture of the number of children who are moved, where they go, or for what reason. It is difficult to know what happens to these children, whether they are kept safe or what their educational outcomes are. The report recommended that the Department for Education collect data on managed moves in the same way it collects information on exclusions. This data will help Ofsted and others to determine how effective managed moves are for children.
Early help services should be planned in response of the needs of schools to keep children safe from knife crime. Local safeguarding partnerships should facilitate all agencies including schools and colleges in challenging each other's practice if they believe any agency is failing to contribute to the local strategy to protect pupils from knife crime. In particular, the Police Service needs to establish a clear and consistent protocol and memorandums of understanding with schools that ensure that it and schools routinely share information about children for the purposes of safeguarding.
School leaders should consider how their personal, social, health and economic education (PHSE) curriculum reflects local safeguarding issues and trends, including knife crime. Other organisations working with schools should consider ways in which they can support them in ensuring that they can deliver high quality anti-knife crime and gang education. Safeguarding partnerships and school leaders should also raise awareness of the dangers of grooming and criminal exploitation to parents and the local community.
For more information on the report and children's experiences of knife crime see:
https://assets.publishing.service.gov.uk/government/uploads/system/uploads/attachment_data/file/785055/Knife_crime_safeguarding_children_and_young_people_110319.pdf
https://www.london.gov.uk/sites/default/files/youth_voice_survey_report_2018_final.pdf
For up to date Guidance on searching pupils: https://assets.publishing.service.gov.uk/government/uploads/system/uploads/attachment_data/file/674416/Searching_screening_and_confiscation.pdf
At the request of schools, Mandy Parry Training is planning a new Open Course in partnership with Delegated Services entitled 'Extended Safeguarding' for professionals working with children. The training will discuss in detail a range of safeguarding issues not covered in either Basic Awareness or Advanced Safeguarding – including knife crime, criminal exploitation, grooming and contextual safeguarding. Watch this space for more information on the course – until then set the first date in your diary for 3 March 2020! And in the meantime if you have any other ideas on what the course should cover, please let us know.